Damping
"Damping is the quieting or abrupt silencing of the strings after they have been sounded..."
This technique can be done on the classical guitar with both the right hand and left hand. It is a guitar technique of stopping the vibration of a string or strings at an appropriate time in a piece of music. It is not a particularly difficult technique but you do have to be accurate and perform it with some sensitivity.
The right hand technique can be performed by single fingers or thumb on a string, and is achieved by slightly touching the string. David Braid, in his excellent guitar resource book Play Classical Guitar has some excellent photos of how to do this with the thumb. I really recommend this book to anyone whether beginner or advanced. It's great.
Wikipedia describes the technique as...
"On guitar, to damp (also referred to as choking) is a technique where, shortly after playing the strings, the sound is reduced by pressing the right hand palm against the strings, right hand (including Palm muting), or relaxing the left hand fingers' pressure on the strings, left hand (or Left-hand muting). Scratching is where the strings are played while damped, i.e., the strings are damped before playing. The term presumably refers to the clunky sound produced. In funk music this is often done over a sixteenth note pattern with occasional sixteenths undamped..."
You can read the full article here...
Additionally, if you want to apply this technique to all of the strings at once, you can use the "heel" of your hand, much like when you play pizzicato. In this method,  you place your hand over the strings close to the bridge.
Here is a graphic of what I mean...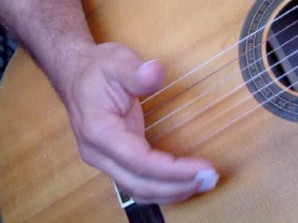 Some people recommend using an open palm when trying to mute the strings, but I have found this method to be too sloppy, especially given the different shapes of hands that you encounter when teaching guitar. As I said earlier, you have to be both accurate and have some sensitivity to pull off this technique.
Sometimes the note you are trying to stop does not belong to the chord and would create disharmony thus the left hand mute is used. The left hand technique is achieved by placing the fleshy part of a finger adjacent to a string that requires the note to be muted.
By slightly touching the string in this way makes sure the note is cut off whilst the tip of the finger can still be involved in playing the note it is supposed to on another string. Like any guitar technique it is a little difficult at first but with a little practice and experience over time, becomes easy.
Good luck!
More than Damping...
And for more than just the damp technique click here...