Classical Guitar Lessons Online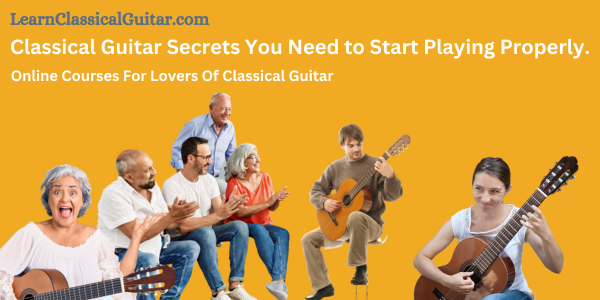 FIND A COURSE
People get frustrated with the poor resources that are scattered for classical guitar lessons online. LearnClassicalGuitar.com provides you with the right information and resources to make your playing thrive AND save you time and money!
---
Classical Guitar Lessons Online:
Eliminate the Guesswork
You don't have to guess when it comes to playing the classical guitar.
We want you to know that what you're doing is working… and what to do next.
Imagine what it'll be like when start playing guitar in front of your family and friends!
                   * Access to Expert Instruction.
                   * Flexible Learning Schedule.
                   * Cost-Effective Learning.
                   * Wide Range of Learning Resources.
                   * Community and Feedback Opportunities.
FIND A COURSE
---
Classical Guitar Lessons Online:
Trevor M. Owner & Webmaster of www.learnclassicalguitar.com
Hi All,

From the moment we first pick up that guitar, we imagine what it'll be like to share our first tunes, to share sweet melodies with our family and friends.

But what happens when you don't know how to go about learning classical guitar properly? 

Cue stress and worry, right?

At  LearnClassicalGuitar  we want to put your mind at ease. As an experienced classical guitarist of some 30+ years of experience, Ive taught literally hundreds of people the secrets to getting their playing where they want it.

I can teach you, too!
FIND A COURSE
---
You  can play classical guitar in 3 EASY steps!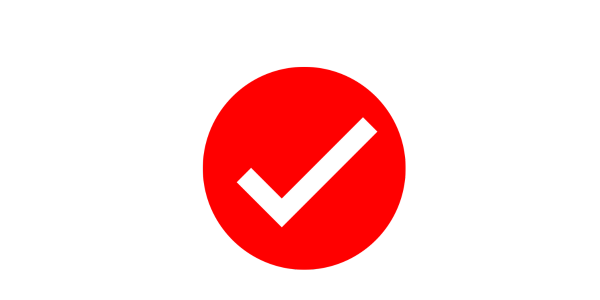 1. FIND A COURSE 
Whether you're a beginner, or have some experience under your belt, we have a course for you.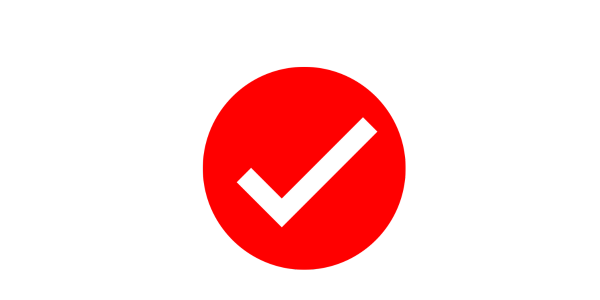 2. LEARN THE SECRETS 
Discover our simple step-by-step secrets you can use in our classical guitar lessons online to develop your technique, or choose our repertoire course.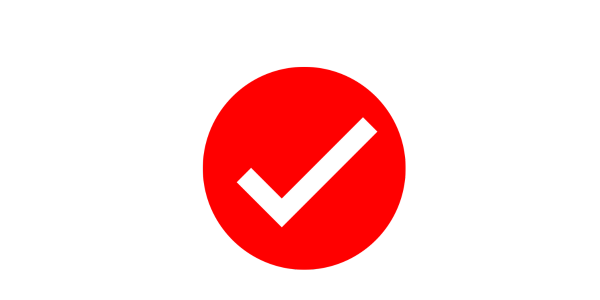 3. START PLAYING GUITAR 
Know you are meeting your guitar milestones and playing beautifully, with ease.
---
Find the course that's right for you...
Opening late November 2023!
We're opening late November 2023, so get on the wait list by filling out the form below and get notified as soon as the courses are open again—really SOON! 😊
  CLASSICAL GUITAR STUDY COURSE 

3.0   
For Beginners (and with some experience). This course is designed to take you step-by-step, using our famous "Success Path" to speed up your progress, yet develop sound techniques.
Opening late November 2023!
  INSTANT CLASSICAL GUITAR REPERTOIRE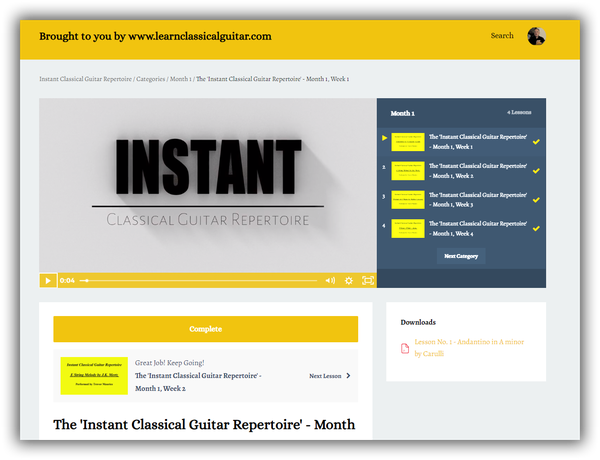 For all guitarists interested in developing their repertoire! This course is designed to build your classical guitar repertoire, plus give you some historical knowledge, and build on your musical skills.
Opening late November 2023!
Opening late November 2023!
Bundle & Save!
Get access to both the Classical Guitar Study Course 3.0   &  Instant Classical Guitar Repertoire  and save 20 percent!
This bundle is perfect for both developing your technique AND your classical guitar repertoire.
---
OUR COURSES WERE DESIGNED WITH YOU IN MIND!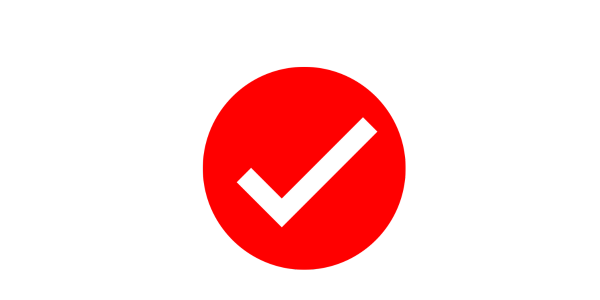 SIMPLE ACCESS
Access the online courses and work through them at your own pace. Incorporate the classical guitar secrets into your everyday routines—never pay for a missed lesson ever again!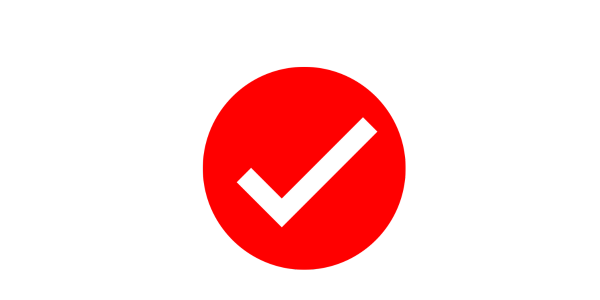 SIMPLE RESULTS
Our classical guitar "Success Path" secrets have been used by many guitarists with great results. With easy-to-follow videos and jam-packed resources, you can start improving at classical guitar quickly.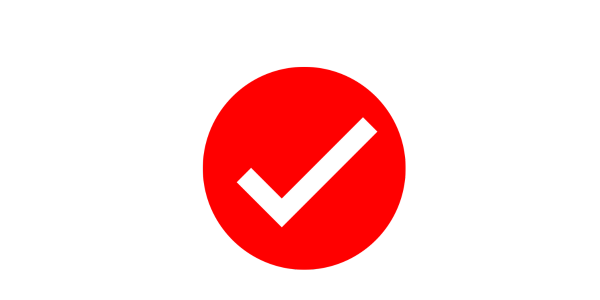 SIMPLE GUARANTEE
If you're not completely thrilled by your progress in 60 days, we'll refund your payment.
FIND A COURSE
---
Classical Guitar Mastery Starts Here!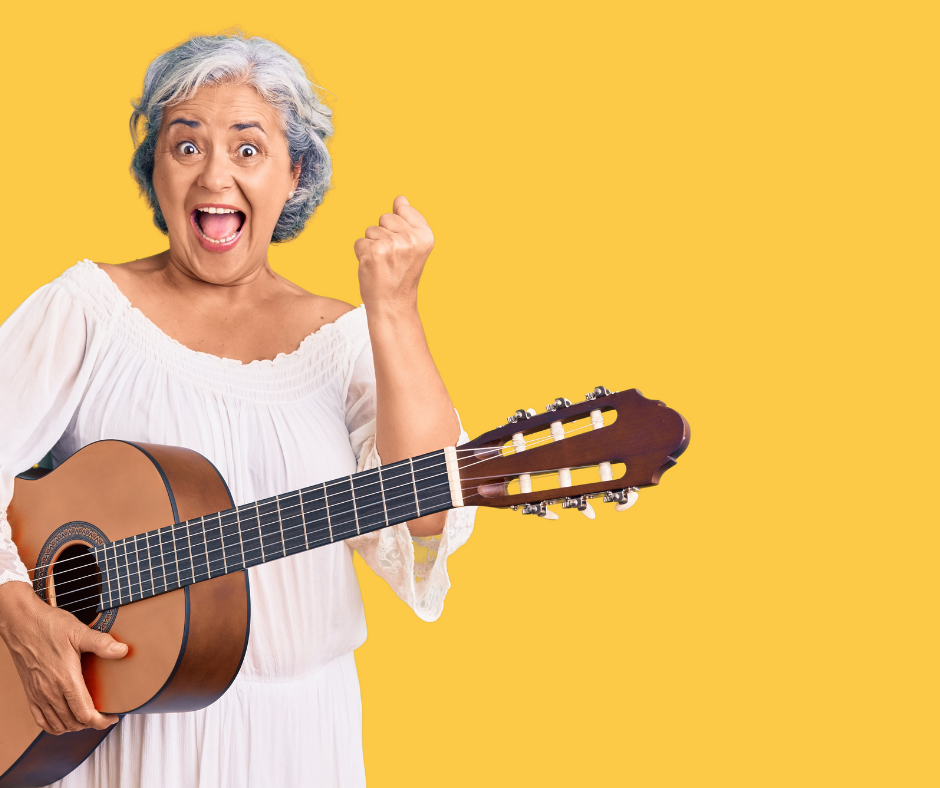 If you want to know how you can be proactive and start learning classical guitar but can't afford the expense of having an individual teacher, let me say, our courses here on LearnClassicalGuitar.com are easily the next best thing.
Indeed, I believe, our online courses work just as good as a having a private teacher, but at a fraction of the cost.
And for some, it might actually BE the best thing! Like Ed from Ontario, Canada...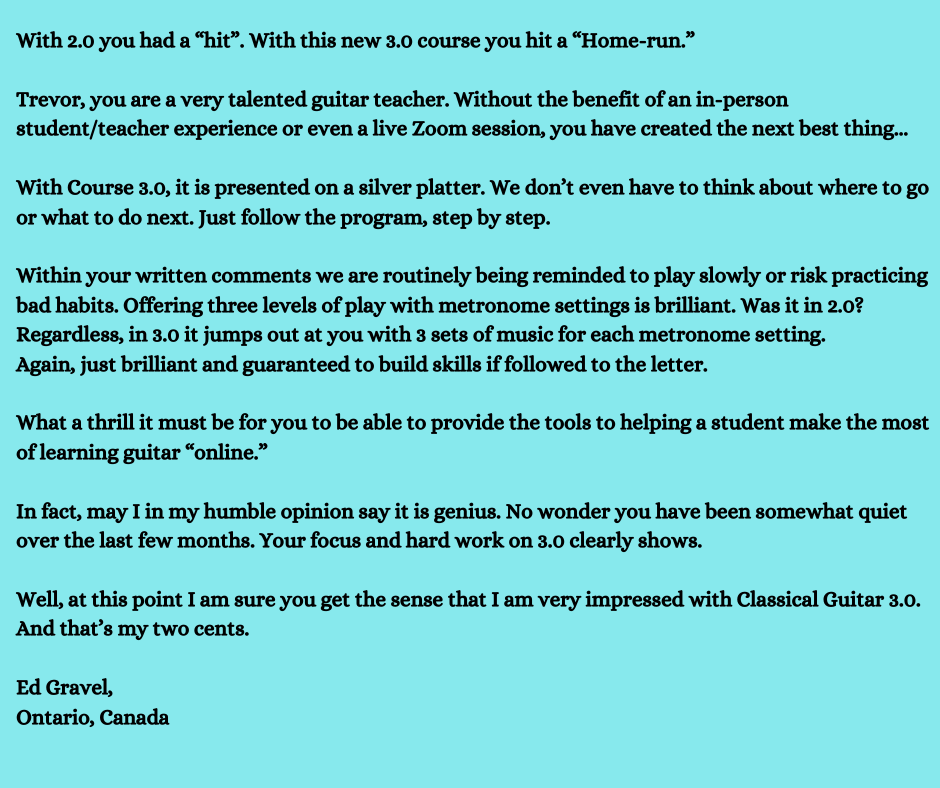 FIND A COURSE
Or, Mike Lucas...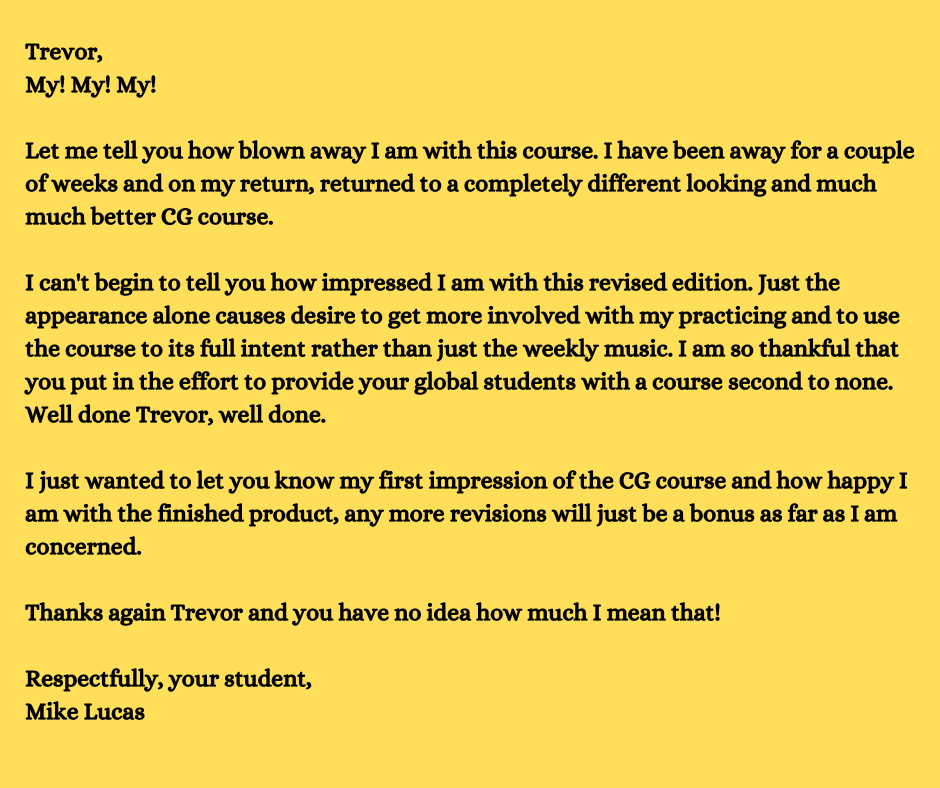 Well. it only remains for me to say, do yourself a favor, and...
FIND A COURSE
---
Don't Just Get a Head Start - Get a FAST START!
One of the biggest challenges in learning to play classical guitar is to know where to start.
That's why I created the 'Classical/Finger Style Guitar Lessons Portal' which helps you to make a fast and logical start. You can join here...
https://www.learnclassicalguitar.com/Classical-Guitar-Fingerstyle-Portal
Oh, and did I mention - it's FREE? 😊
Just follow these 3 easy steps...

1. Enroll in the Classical-fingerstyle Lesson Portal here...
https://www.learnclassicalguitar.com/Classical-Guitar-Fingerstyle-Portal
2. Select the lessons you want to practice
3. Start making progress on the classical guitar
If you're really serious about learning classical guitar, you can also download your copy of... 
"Ten Important Skills You Need as a Classical Guitarist"  (inside the portal).
P.S. If you resonated with this idea I think you're going to love how the portal gives you an advantage and a fast start in playing classical guitar. You can join in literally seconds here...
https://www.learnclassicalguitar.com/Classical-Guitar-Fingerstyle-Portal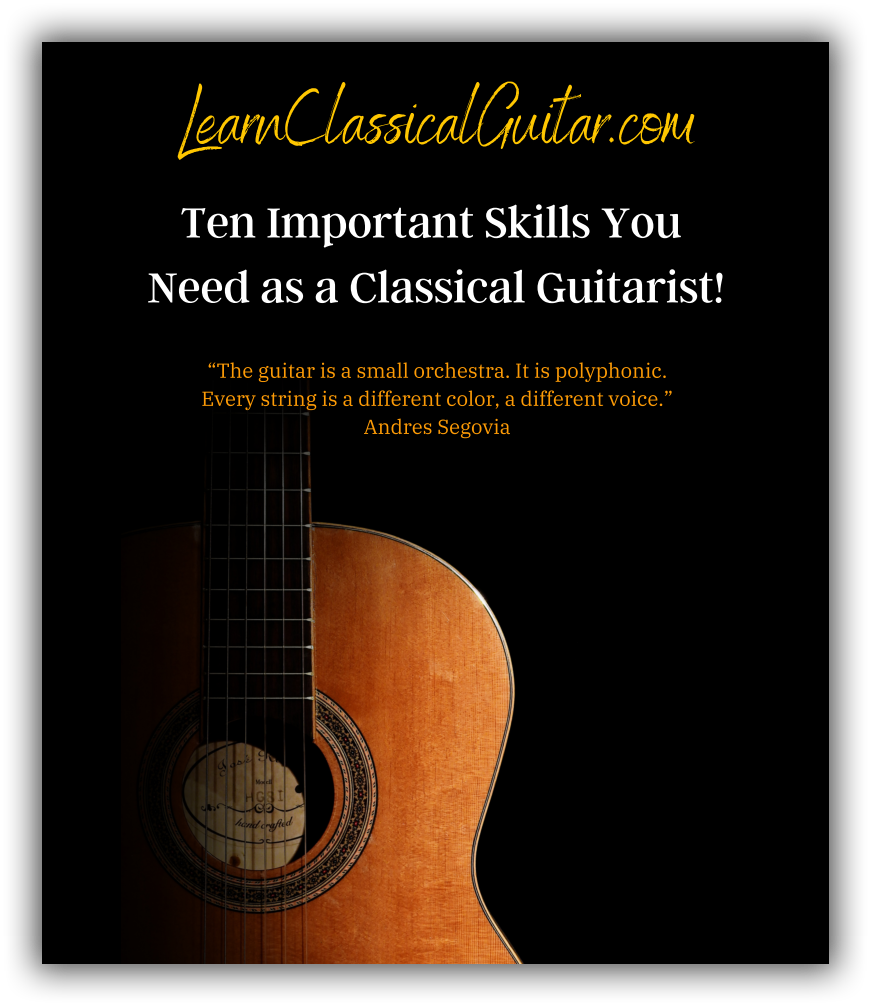 Ten Important Classical Guitar Skills
---
Other Interesting Information for Classical Guitar Lessons Online...
Classical guitar, played well, is one of the most satisfying styles of guitar you could play. When you achieve that sound, those tone colors...well, it's a great sense of achievement! We can't all afford either the time to go to weekly lessons to learn classical, or shell out week after week for a private tutor. Trouble is many teacher's won't do "catch-up lessons." You are continually chasing your tail and feeling more and more guilty. Now that's not a good place to be. It can start to get really expensive AND frustrating!
Even if you can afford a personal teacher you often want a "second opinion" to help keep you on the "straight and narrow as it were. That's where Learn Classical Guitar is useful...

So,
Are YOU looking to learn classical guitar at your own pace?
Do you want everything at your fingertips to save time? Things like:
Classical lessons with information on technique...
Classical music in notation and tablature...
Classical YouTube videos for better interpretation of rhythm, tempo and style...
Classical vs acoustic guitar information...
Yes, we've got the information, tips, music and YouTube videos to help you learn and grow and most importantly, ENJOY your guitar playing.
For instance, if you're a beginner you may want to start on the Beginner Pages.
Or, if you're a little further down the track you might want to start on the Guitar Lesson Pages...
You can spend time looking over the many other pages of information and tips too. Sign up for the monthly music as well to build up your personal library of music. Here's a recent video example...
FIND A COURSE
---
There's Something About Classical Guitar Here for Everyone...
As I said, if you're a beginner or intermediate classical player the lessons, videos and information on this site will be particularly useful.
They are designed to help you with the knowledge and technique aspect of learning classical...I'm sure you've got the talent to burn! :-)
These lessons will save you bundles of precious time, time better spent on actually learning your wonderful instrument because after all... "Playing is where the pleasure is"
Here's another great benefit of visiting this site - many of the downloadable PDF's cost zip, nada, nothing!
That's music you can add to your repertoire and more. I'm Trevor Maurice, owner and webmaster of L.C.G.
I hope my website helps YOU become a better guitar player.
Playing classical is both fun and rewarding and my goal is to steer you in the right direction. With everything at your fingertips and the best advice available whether you want to find out about:
* Tablature to Technique
* Composers to Chords
* Stringing to Sheet music
* History to Harmonics
* Andres Segovia to Auctioning a Guitar and much, MUCH more.
And, no matter what style of guitar you play, whether you're...
* A total newbie or an old hand
* A finger-style guitarist
* A rock n' roller or jazz player
There's something in the following pages for the...
 "Classical player in all of us"
 To play classical to the level that YOU want is definitely achievable with these great guitar lessons. And remember...
"Whether you play guitar as a hobby or professionally, the more you know, the better you become, and the more joy music can bring to your life", Sharon Isbin, World Renowned Guitar player.
Indeed, I'm sure I can hear YOUR beautiful melodies right now!
FIND A COURSE
---
Classical Style Guitar by Taylor, Aged 7
Recent New Pages: 
What is Classical Guitar Playing?
Arpeggio                                                         Beginner Guitar Lesson                         Classical-Fingerstyle Portal
Blog                                                                 Technique                                                 Free Guitar Lesson   
Guitar History                                                Guitar Instruction                                    Guitar Lessons   
Guitar Time Line                                            Malaguena                                                Memorizing Music 
Music Notation                                              Music Notation Primer                            Sight Reading                
Sight Reading Guide                                     Theory Work Sheets                                Renaissance Guitar