Free Guitar Lesson Page
* This Free Guitar Lesson Page is currently being updated. More news soon!
If you're looking for a free guitar lesson, then go here...
www.learnclassicalguitar.com/videos-for-monthly-music.html
This page is being re-constructed and will be fully updated soon!

Find out how to get some additional free beginner classical guitar lessons by  scrolling to the bottom of the page....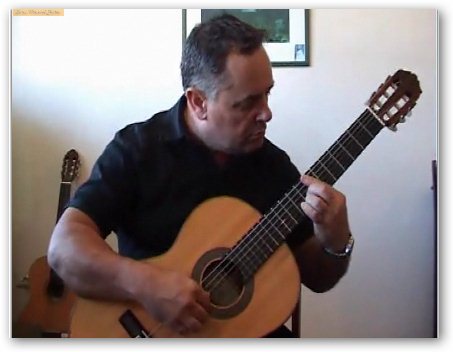 ~ Greensleeves ~
The phenomenon of this piece continues unabated from the Renaissance right up to the present day, and its popularity has never really waned.
Green Sleeve, or Greensleeves is a traditional English ballad written by an anonymous composer and has become a most famous piece in terms of guitar history.
It is often said that King Henry VIII wrote Greensleeves about Anne Boleyn, but this isn't really probable due to stylistic differences of the time.

~ Allegro Etude by Giuliani ~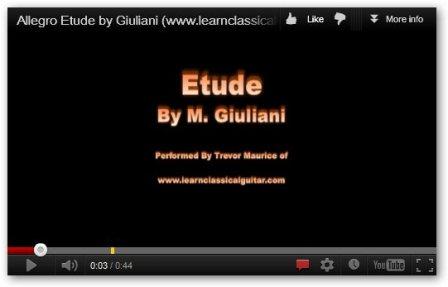 This classical guitar lesson by Giuliani is a powerful exercise for right hand arpeggio technique. Giuliani had made a name for himself as a virtuoso of guitar by the time he was nineteen.
He was also adept at the flute and violin and by the time he died had added the title of "highly talented composer" to the list of achievements.
~ Andantino by Horetzky ~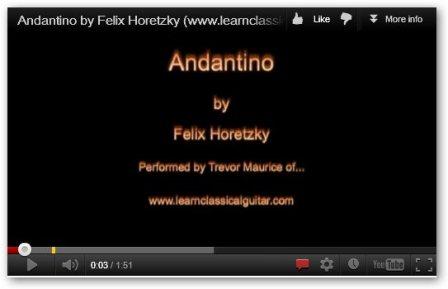 This Andantino by Felix Horetzky will help with practicing music in 6/8 time. That means there are six eighth note beats per bar (or the mathematical equivalent).
The 'accent' of the beats or pulse thus become: strong; weak; weak; medium; weak; weak.
Felix Horetzky was born in Poland in 1796 and died in 1870. He learnt guitar when young, but it wasn't until his mid-thirties that he went to Vienna to study guitar under Mauro Giuliani.

~ Carcassi Andantino ~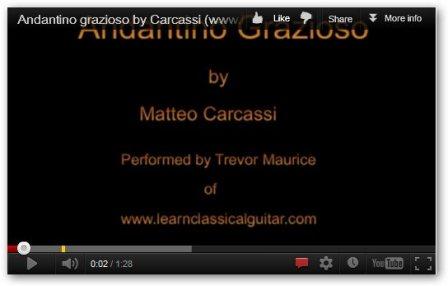 The Carcassi Andantino grazioso is a wonderful little piece in C major that helps you to master such technical requirements on the classical guitar such as the use of 16th notes; the Alberti bass; making melody in the treble really stand out; the use of all the right hand fingerings in a not too difficult setting - with Grace! :))

~ Country Dance by Carulli ~
This easy free guitar lesson by Carulli is an excellent way to practice simplified arpeggios. It is also good for alternating "i.m." fingers with the thumb (providing bass).
It is also a piece that highlights the classical era technique of using a major key, then the related minor key in the middle section and returning to the major key again in the last section.

~ Galop by Carcassi ~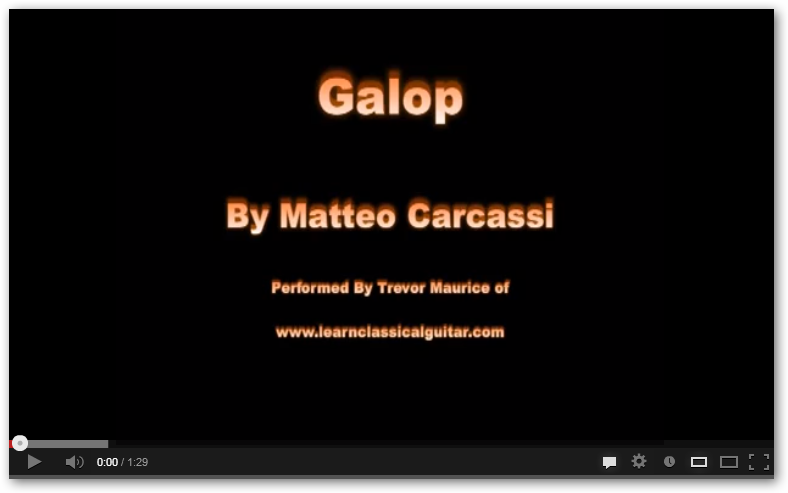 Galop by Carcassi
This free Guitar Lesson is a charming little piece by Matteo Carcassi called Galop. Traditionally, a Galop is a quick dance usually in 2/4 time. It was very popular during the 19th century.
It originated in Germany but was also quite popular in France. The reason I've chosen this Galop is so that you may practice some open string or natural harmonics and to practice guitar slurs using the 3rd and 4th or little finger of the right hand.
When playing these harmonics (on the 12th and 7th frets) you must make sure that you place your finger on the string over the TOP of the fret, not before it as you play ordinary notes

~ Kuffner Etude ~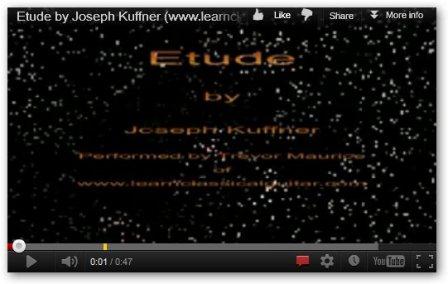 This Kuffner Etude is great for practising slurs, a.k.a. hammer-ons and pull-offs. On the trill technique page, you can see how to do this more effectively.
You also get to use the little finger of the left hand occasionally throughout the piece. In the past, many students I've had try to avoid using the little finger because it is obviously a "weaker" finger, but I maintain the more you use it the stronger it will become.
Indeed, Joseph Kuffner wrote many of these little study pieces purposely to strengthen the fingers and secure guitar technique.

~ Minuet by Purcell ~
Henry Purcell was an English Baroque composer.
He has often been called England's finest native composer. Purcell incorporated Italian and French stylistic elements but devised a peculiarly English style of Baroque music.
Although he was a Baroque composer (who wrote for the lute) there are several, quite useful and varied, lessons for the classical guitar player contained within this piece.
For instance the Use of the closed "b" on the third string, fourth fret, is useful for developing the use of the little (often weaker) finger.

~ Slur Study by Carulli ~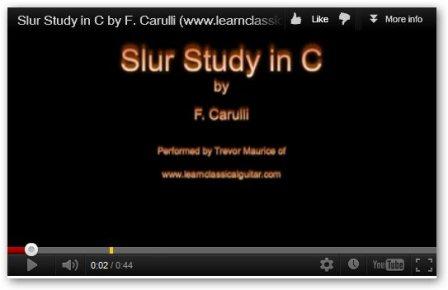 This free guitar lesson by Carulli is an excellent way to practice your left hand slur technique. Carulli was born in Italy in the same year as Beethoven (1770) he became one of the most popular and loved classical guitar composers and players of his time.
Indeed, that love extends right up to the present day as new generations of guitarists 'find' his music and make it their own.

~ Study in C by Giuliani ~
This Study in C by Giuliani is great for developing your thumb technique as much of the melody resides in the bass, in this piece.
Actually, the melody continually switches from the bass to the treble, but the bass has a large part of this.

~ Study in E Minor by T. Maurice ~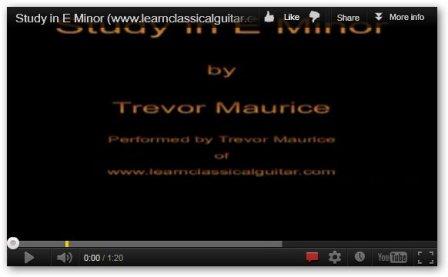 I wrote this little E Minor free guitar lesson to highlight the fact that the melody can be expressed from both treble notes and bass notes combined.
That is the melody doesn't always have to reside in the treble notes alone but can be "inter-twined" with the bass notes. If you play the bass notes and treble notes separately, you'll hear just what I mean.

~ Tyrolean Dance by Kuffner ~
Although Tyrolean Dance; by Josef Kuffner, is deemed to be very easy, there are many small yet important lessons that can be learned by analysing it properly.
When playing double notes is vitally important to aim to play them legato and this free guitar lesson is great practice for legato!

~ Waltz in A by Carcassi ~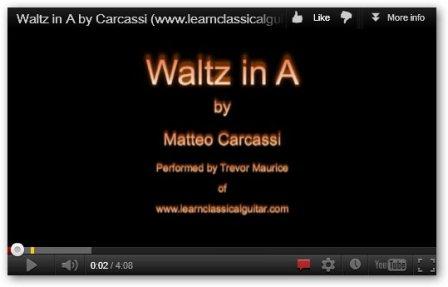 Waltz by Carcassi is typical of him when writing excellent beginning works for classical guitar.
As I've said on another page...
"When Carcassi was born in 1792, Carulli was already making a name for himself as a 22 year old, Sor was a rapidly improving 14 year old at the Monserrat monastery, and Giuliani was receiving tuition on the violin, flute and guitar as an 11 year old.
Who was to know that in time that he would join these luminaries as one of the most famous names in classical guitar history."

Go here for my YouTube Page...
Still Haven't Found What You're Looking For?
If you need more basic training before you can make use of these free guitar lessons go to the Beginner Guitar Lessons Page...