~Closed For This Intake~
~The Instant Classical Guitar Repertoire~
Membership Portal
Save Time
Save Money
Enjoy the Convienience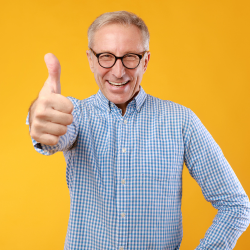 The Instant Classical Guitar Repertoire:


Enjoy All the Benefits of Our Exclusive Content!
Now you can forget the stress, confusion, and frustration of trying to learn the classical guitar because the Instant Classical Guitar Repertoire lesson portal is open...
And the best part?
You're going to LOVE the inexpensive price!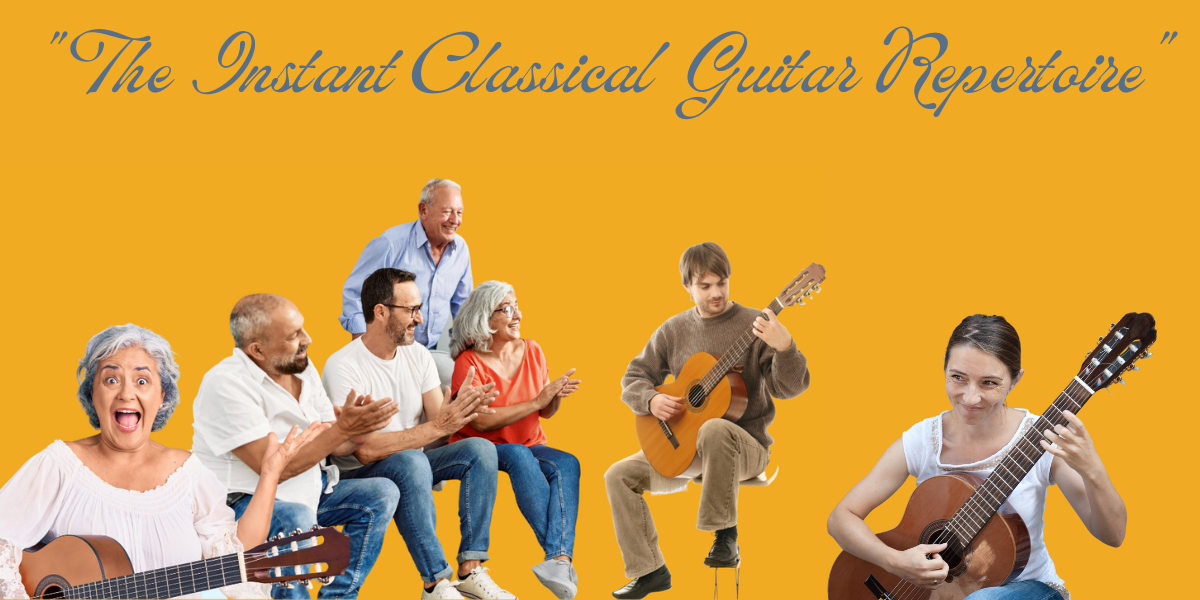 Instant Classical Guitar Repertoire - All the Resources You Need at Your Fingertips!
At the Instant Classical Guitar Repertoire we understand trying to locate inexpensive and appropriate classical guitar resources online can be confusing and frustrating.
It's really annoying wasting time and money when you should just be enjoying your creativity.
Nobody deserves to be confused and frustrated when it comes to creativity...
You deserve more!
Not only will you save time, money, and enjoy the convienience of having everything at your fingertips, but you will get access to:                                                                                                 Exclusive Content 
Joining the "Instant Classical Guitar Repertoire" membership portal gives you special access to our exclusive content not easily found elsewhere.
This content encompasses a wide range of valuable resources, such as:
* Explainer, Performance, and Slow-Motion, Close-Up videos of each lesson
* Educational materials so you can expand your musical knowledge, discover new repertoire and styles, and gain valuable musical insights
* It presents a unique opportunity to delve deeper into the world of classical guitar, offering distinct perspectives that can elevate your playing skills and deepen your appreciation for this art form.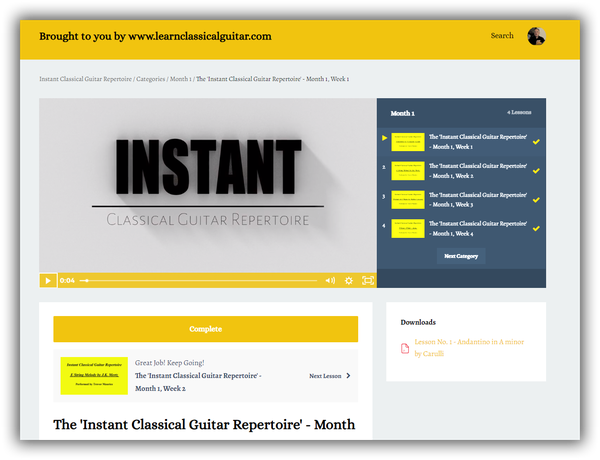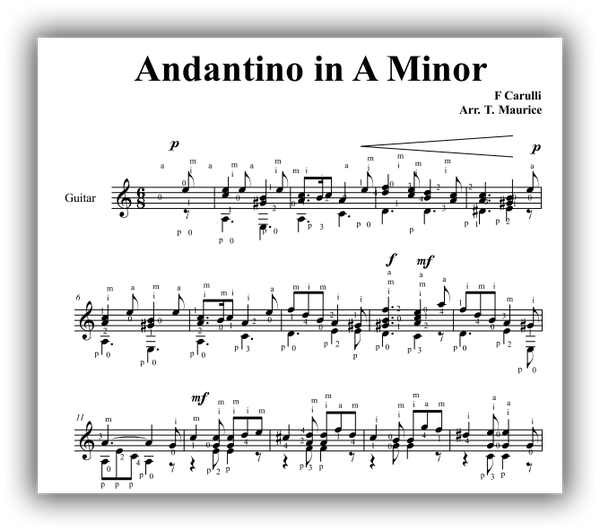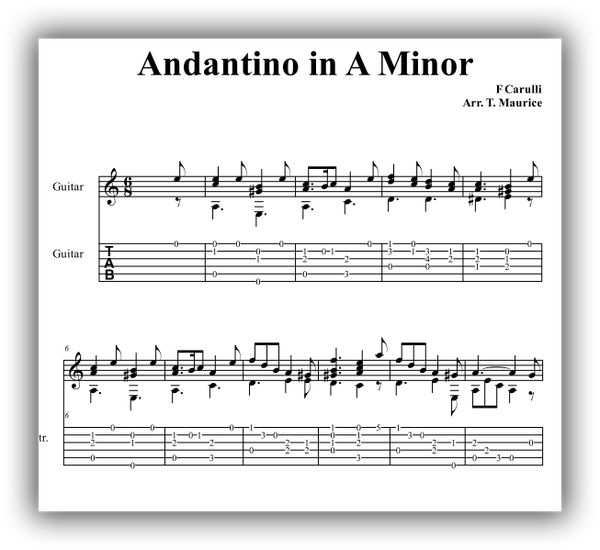 The Instant Classical Guitar Repertoire - Here's Your Easy 3-Step Plan!
You can do this in 3 easy steps:
1. Enroll in the "Instant Classical Guitar Repertoire"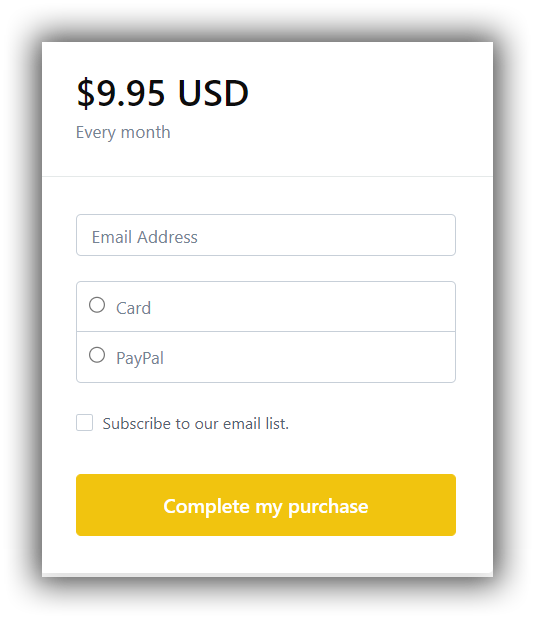 2. Watch the instructional videos and download the beautiful resources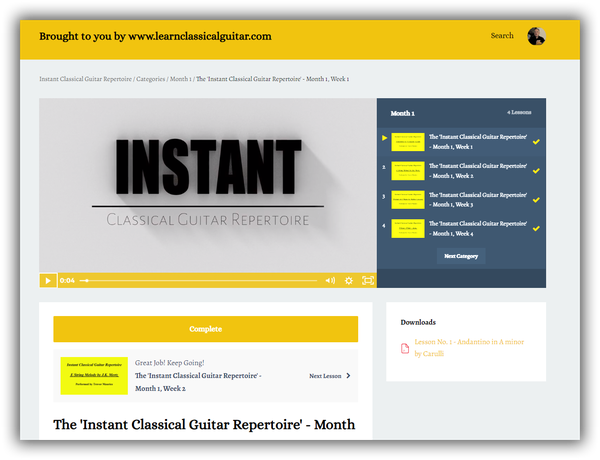 3. Start playing music, be creative and have a heap of fun!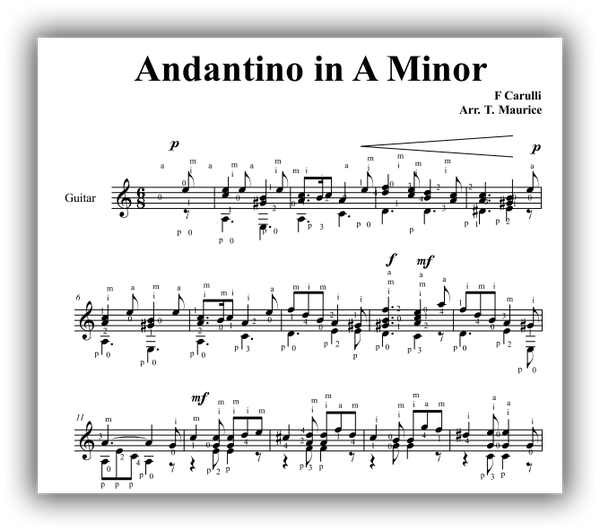 The Instant Classical Guitar Repertoire - I can help guide you through the maze!
At the Instant Classical Guitar Repertoire we care about YOU!
I've experienced the confusion of trying to gather up all the proper resources to learn classical guitar and I feel your pain. But I can change that for you because I've got a solution to get you out of that "hole!"
With over 30 years' experience teaching hundreds of people classical guitar both offline and online, I can supply you with the right music that will be both challenging and fun. And it won't cost you an "arm and a leg", so to speak.
Who Am I and Why Did I Develop This Website Membership Portal?
As you probably know, I'm Trevor Maurice, owner, and webmaster of www.learnclassicalguitar.com and my website has been online since 2001.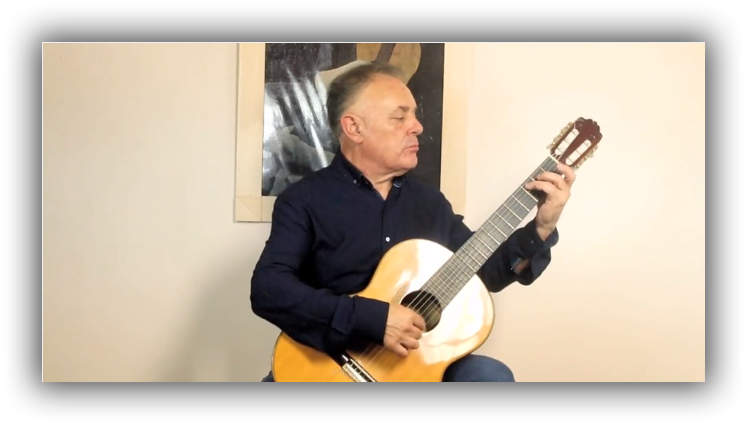 I've provided quality resources and courses for classical/fingerstyle guitarists for a very long time. But before that, as I mentioned above, I taught students (both children and adults) both offline and online for many, many, years.
The Instant Classical Guitar Repertoire: What people are saying...
"What a thrill it must be for you to be able to provide the tools to helping a student make the most of learning guitar online."
Ed Gravel,
Ontario, Canada
Comments Inside Portal
The Instant Classical Guitar Repertoire: What are the benefits?
For aspiring guitarists, learning classical guitar online provides a variety of benefits and chances. Here are the top five justifications for choosing online resources for classical guitar instruction:
Flexibility and leisure:
You may study at your own speed and at your leisure with our online classical guitar lessons. There are no set class times, so you may arrange classes whenever it works best for you. As long as you have an internet connection, online learning enables you to access classes whenever and wherever you choose, no matter whether you're a busy professional or a student with a full schedule. Due to your ability to customize your practice sessions, it will be simpler for you to incorporate learning into your everyday routine.
Access to High-Quality Resources:
Our online classical guitar lessons provide students access to a wide variety of excellent study materials. These tools include interactive tutorials, sheet music, practice drills, and videos. You may take advantage of the knowledge of my 30+ years of guitar knowledge and practice. 
Global Community & Networking:
By studying classical guitar online, you may get in touch with people from all over the world who share your passion for the instrument. It's not just a cold and isolated book. In our online platform, you may connect with others who share your interests, exchange stories, and get advice. This online community offers chances to connect, work together, and even take part in online performances. Interacting with a variety of guitarists may widen your perspective and motivate you to succeed in your musical endeavors.
Cost-Effectiveness:
Compared to conventional in-person sessions, taking classical guitar instruction online is often less expensive. You may avoid paying for transportation as well as the expenditures of hiring a private teacher by choosing online learning. Indeed, the Instant Classical Guitar Repertoire online platform provides exceptional value for the money by offering our inexpensive monthly subscription-based model to help you build your repertoire course library. Additionally, the capability of regularly accessing learning materials and watching video lectures guarantees that you get the most out of your investment.
Personalized Learning Experience:
Our online classical guitar lessons provides individualized instruction based on student objectives and ability levels.  A tailored learning path is made possible by the ability to get quick feedback through the membership portal and the flexibility to go back and review music as necessary.
As a result, studying classical guitar online provides flexibility, practicality, accessibility to excellent materials, a worldwide community, cost efficiency, and a customized learning experience. As an aspiring guitarist, you may start a satisfying and gratifying path toward mastering the classical guitar by using these advantages of our online portal...
Instant Classical Guitar Repertoire:


What are the other overall benefits of learning classical guitar?
A Path to Fun and Creativity with the Classical Guitar
The classical guitar is a timeless instrument with a wealth of advantages for those who want to study it. The classical guitar offers a distinctive outlet for individual delight and creativity in addition to its lovely melodies and extensive history. There are many reasons to explore the world of the classical guitar, regardless of your level of musical experience.

An Instrument of Pleasure: Learning the classical guitar is a tremendous source of happiness and fulfillment. You enter a realm of music that uplifts the spirit and calms the soul as you strum the strings and create lovely tunes. Learning this instrument enables for the expression of one's personality and emotional release. The sophisticated skills and delicate finger motions, together with the pure joy of making music, provide a profound feeling of achievement.
The classical guitar exposes students to a huge repertoire of music from diverse ages and civilizations, broadening their musical horizons. The classical guitar may be used to perform a wide variety of musical genres, from the timeless compositions of Bach, Mozart, and Beethoven to the vivacious flamenco music of Spain. One's musical horizons are broadened by exploring these many genres, and it also helps one develop a thorough understanding of the cultural and historical relevance of various musical traditions.
Developing Creativity: There are many ways that studying classical guitar fosters creativity. As they advance, students are encouraged to interpret and express musical compositions in their own unique way. Guitarists may create their own musical ideas and explore their creative impulses via improvisation and composition. Through this technique, students may express themselves and inject their uniqueness into the music they make. The guitar becomes a tool for exploring and expressing one's feelings, ideas, and thoughts.
Enhanced Cognitive abilities: Focused attention, memory, and fine motor abilities are necessary for playing the classical guitar. Regular practice improves these cognitive skills, which enhances mental flexibility and focus. Hand-eye coordination and dexterity are improved by the intricate coordination needed to precisely pluck the strings and maneuver the fretboard. These abilities have favorable effects on various facets of life outside of music, such as problem-solving and multitasking.
Social engagement and Collaboration: Learning the classical guitar often results in chances for social engagement and cooperation. You may meet other musicians and music lovers by joining a guitar ensemble, taking part in jam sessions, going to music festivals, and seminars. Sharing music with others generates a feeling of community and develops connections that last a lifetime. Additionally, giving public performances fosters confidence and stage presence, which adds to the general pleasure and delight of playing the classical guitar.
In conclusion, learning classical guitar is a pleasurable and enlightening activity that provides many advantages beyond only technical proficiency. The instrument is a great option for people seeking fun and personal development because to its beauty, adaptability, and encouragement of creativity. The classical guitar has the capacity to spark a lifetime love of music, foster creativity, and provide a lasting source of joy, whether one decides to pursue it professionally or as a pastime. In order to start a path that will offer you happiness, pleasure, and a greater respect for the art of music, take up a classical guitar.
You Can Also Join the Free Classical-Fingerstyle Portal!
Don't Just Get a Head Start - Get a FAST START!
One of the biggest challenges in learning to play classical guitar is to know where to start.
That's why I created the 'Classical/Finger Style Guitar Lessons Portal' which helps you to make a fast and logical start. You can join here...
https://www.learnclassicalguitar.com/Classical-Guitar-Fingerstyle-Portal
Oh, and did I mention - it's FREE? 😊
Just follow these 3 easy steps...

1. Enroll in the Classical-fingerstyle Lesson Portal here...
https://www.learnclassicalguitar.com/Classical-Guitar-Fingerstyle-Portal
2. Select the lessons you want to practice
3. Start making progress on the classical guitar
If you're really serious about learning classical guitar, you can also download your copy of... 
"Ten Important Skills You Need as a Classical Guitarist"  (inside the portal).
P.S. If you resonated with this idea I think you're going to love how the portal gives you an advantage and a fast start in playing classical guitar. You can join in literally seconds here...
https://www.learnclassicalguitar.com/Classical-Guitar-Fingerstyle-Portal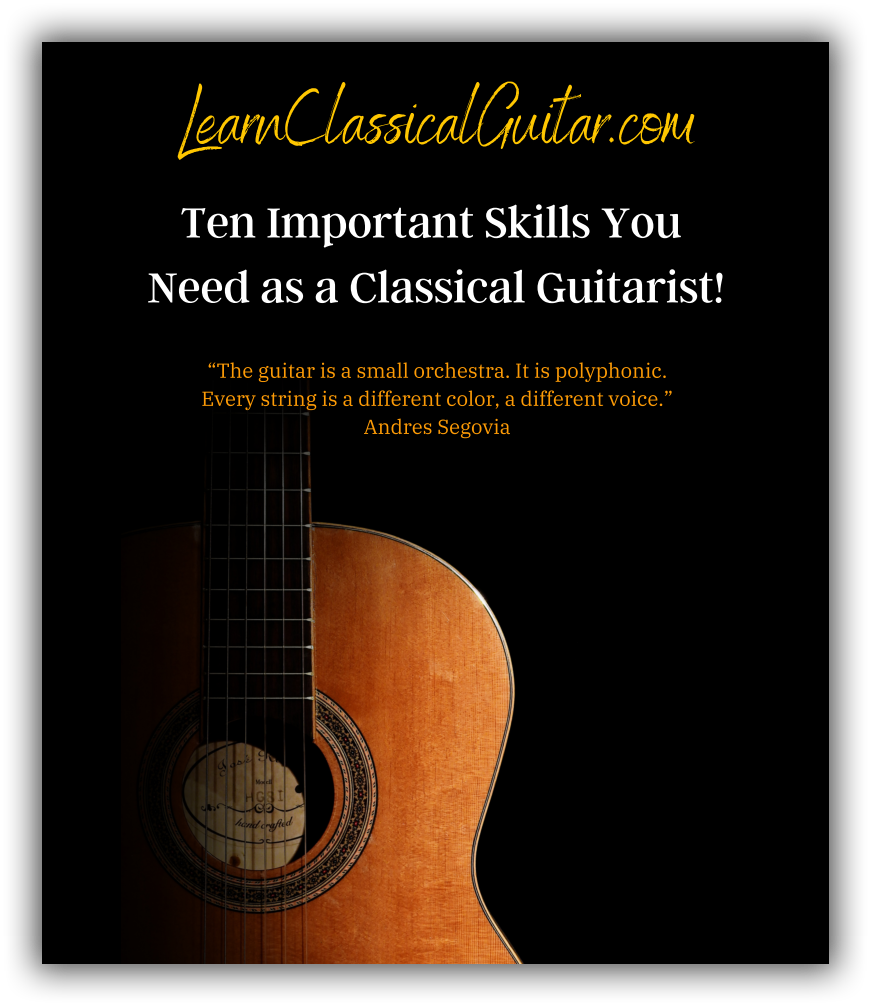 Ten Important Classical Guitar Skills
So, what are you waiting for? There'll never be a better time to start developing both yougr classical guitar skills AND your own repertoire. You can do that right now by enrolling in the Instant Classical Guitar Repertoire here...
Arpeggio                                                         Beginner Guitar Lesson                         Classical-Fingerstyle Portal
Blog                                                                 Technique                                                 Free Guitar Lesson   
Guitar History                                                Guitar Instruction                                    Guitar Lessons   
Guitar Time Line                                            Malaguena                                                Memorizing Music 
Music Notation                                              Music Notation Primer                            Sight Reading                
Sight Reading Guide                                     Theory Work Sheets                                Renaissance Guitar
About  Contact  Privacy Policy  Site Map  Site Search
Here is even more background on the classical guitar...