Cavatina
Stanley Myers Classical Guitar Magic
"Cavatina - Stanley Myers' classical guitar anthem for the ages..."
This piece has been for the longest time, one of the "anthems" of my life. I remember my teacher admonished me for trying to learn the piece too early...
I knew he was right...
I wasn't ready...
How did I know?
The pain in my hand was at times excruciating! Push through the pain barrier I did, so strong was my craving to play the piece.
Little by little, bar by bar, day by day, I would struggle to get my hands around the simple-sounding melody which was deceptively difficult to play - or at least to play well. It's a real challenge to get the melody and the harmony appropriately balanced. You have to feel it more than play it, I would say, so emotive is this piece.
Cavatina is actually an Italian term, a diminutive of the word "cavata" and basically means a song "of simple character." This one for the guitar was written by jazz musician Stanley Myers (although there was some dispute over the fact) and Cleo Laine. In fact,  Ms Laine has a version she sings which is a quite famous and beautiful rendition of the music.
The Naxos web site has this short bio of Stanley Meyers...
"Stanley Myers was one of Britain's most prolific film composers. Among his early successes were scores for Kaleidoscope (1966) and Ulysses (1967). In the 1980s, he composed the music for a number of films by the young British director Stephen Frears, earning a Cannes Award for his work on Prick Up Your Ears (1987). This melancholy tune is without question Myers's best known work. A version of it was used in the 1970 film The Walking Stick, performed by guitarist John Williams..."
The piece we know, as performed by none other than John Williams, was also the central theme music to the 1978 movie The Deer Hunter. It was quite a moving yet unnerving film, one of the first of its kind in the "Vietnam" genre of films that were popular in the late 70's, through the 80's, 90's and up to the present day.
Indeed, when it won the best picture award at the Academy Awards that year it was followed by many other great films in that genre including Apocalypse Now, The Killing Fields and Platoon among others. It is interesting to note that both The Killing Fields and Platoon had very famous classical pieces as their main musical theme. I was quite miffed at the time of Killing Fields as it had Tarrega's Recuerdos Del Alhambra as its main theme though re-worked by Vangelis and uncredited for poor old Tarrega
After the film,  it certainly caught not only the guitar fraternity's imagination but that of music lovers the world over. It's hauntingly beautiful yet simple melody lingers long after the music has stopped. I often find myself humming the tune almost subconsciously even to this day.
Because of the many barre chords throughout the piece it is often quite difficult to sustain the melody line and play it in a legato (smooth and connected) way. When John Williams tried to play it for Andres Segovia, he wouldn't have a bar of it - literally! Sorry for the pun.
Here's a youtube video I recorded...
You can get a copy of Cavatina here...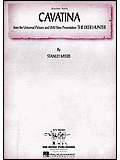 Seriously though, Williams could never really understand why the great maestro would not listen or even entertain the idea of listening to it. As great as he was, it just goes to show we all have our faults and weaknesses. Comb the earth in search of that perfect being among the eight billion people on the planet and you'll not find one... But at least we've got Cavatina to soothe our jangled nerves and delight in beauty, even if for a brief few minutes. 
Enjoy!
More than Cavatina...
Here are a few related resources you may be interested in...

Read more about the Cavatina here...