Aguado Allegretto 
"The Aguado Allegretto - Light, graceful, and moderately fast in tempo..."
This little piece is a timely lesson in the sustained use of how to trill and slur on guitar. The actual ornamentation that Aguado uses was very common in the classical period and is called a "turn".
Here's how the turn is notated and described by Fred Noad in his Solo Guitar Playing Book 2...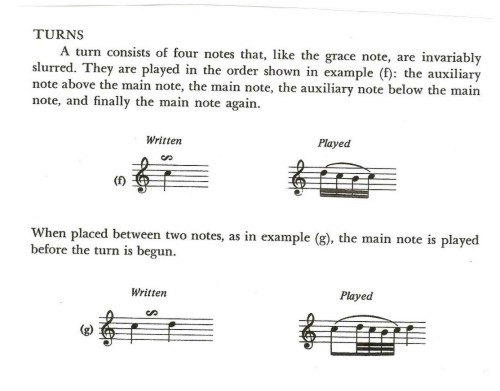 Excerpt from Solo Guitar Playing Book 2 by Fred Noad
---
Back to the Aguado Allegretto...
As you can see, the turn consists of 4 notes that are slurred and played starting above the main note. Further to this you can see in the information about the turn in the Collins Encyclopedia of Music (see below) that the turn may "occasionally start on the principal note." Usually a grace note before the actual turn is apparent, but this is not the case in our Aguado allegretto...

Here is a video of the complete piece...
Go here to "Like" and "Comment" on video...
Another piece of ornamentation to take notice of in this Aguado Allegretto is the grace note in the second last bar. Make sure you play the "B" note simultaneously with the bass "E" note. The note is "slurred" to the main note. This piece is actually a "delicate little miniature" that requires of you attention to detail if you really want to bring out its fine character.
A good idea is to practice each turn in order one after another i.e. the beginning of Bar 1, followed by the beginning of Bar 3, followed by the beginning of Bar 5 in order over and over as a warm up exercise. You would do this slowly to get a real "snappy and crisp" sound to your ornamentation.
Also, you need to usedamping methods in Bars 8, 18, 20, 26, 28 and 30. This may be means of the side of the thumb and lower hand or by the outside of hand on the little finger side. If you "play" these silences correctly it gives this piece more effectiveness, class and authenticity.
Another way to add class to this allegretto is by using rubato. Rubato literally means "robbed". It is a slight slowing, then quickening of the tempo, and if done properly can make a piece seem so more musical. You can use it from Bars 6 to 8 for instance. I think I play it this way in the video.
Anyway, the allegretto is a great little piece, and if you approach it with the right attitude you'll not only enjoy it but really develop your technique and get a feel for both the classical period and the use of proper ornamentation.
Here are a few related resources you may be interested in...