Waltz in E Major
Another Carcassi Classical Guitar Gem
This little waltz in E major, like all waltzes by Matteo Carcassi, displays his usual warmth, grace and charm. There are many study points contained within it that serve to "fine-tune" your playing - if you're aware of them of course! Let's start with using your thumb to play a melody line as that's what's required in the first section of this piece. You need to co-ordinate using your thumb for the melody plus the "m" finger to play an open string "B" note "drone".
It gives a similar feel to that of Malaguena or even Asturias, though in a much simpler form. You need to play the bass in a stronger manner to accentuate the melody though be mindful not to overdo it as it can make the piece sound distasteful, even ridiculous. Being a waltz, make sure you also slightly accentuate the first beat to give the waltz in E "life" as it were. Be careful! Because you're in E major, you'll have to remember to play the F, G and D sharps in this section (there's no C sharp in this section).
After you "set the mood" strongly in this opening section, you need to play the 2nd, arpeggio section in a more "feminine" fashion. By that, I mean in a lighter, brighter even softer approach. Played this way it makes for a good balance with the first section. Almost like a conversation between husband and wife - I said conversation NOT argument! :)
Then comes the beautiful 3rd section in Waltz with the "sliding' melody line on the 1st "E" string. It really is pretty writing by Carcassi, but you don't want to underestimate the difficulty because if you play this the wrong way it can spoil the whole piece. It's important to get your fingers on the right bass notes in time to co-ordinate with the sliding melody on the "E" string.
I don't mean to say you should use a rest stroke to play this shifting melody on the "E" string because it's just too cumbersome. You definitely should accentuate the free stroke using the "m" finger on the 1st and 3rd beats of the bar. 
It then returns to the first 2 sections where the repeats are NOT played, but you just go straight through to where it says "Fine." The waltz in E should be played at about 92 per quarter (crotchet) notes on your metronome. Try to get a feeling of "momentum" in the piece but don't rush it and it will sound great. It's really full of charm and great fun to play. Carcassi really had a knack of writing such pleasurable but not too difficult music.
 I hope you enjoy it!
Join the Great Guitar Tips Ezine to get regular PDF's like Waltz in E in notation and Tab...
More than Waltz in E...
Here are a few related pages in which you may be interested...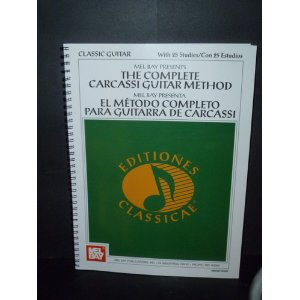 Here's some more information about Carcassi himself...