Vibrato 
"Vibrato - A tremulous or pulsating effect produced in an instrumental or vocal tone by small and rapid variations in pitch..."
This technique (literally "shaking" in Italian) is used as an integral part of classical guitar technique. It is the "swelling" of a note by oscillating a finger which results in a slight variation of the note pitch. To play vibrato on classical guitar, it is best to use a lateral or sideways motion rather than a vertical or up and down movement.
The sideways movement is much easier to control whereas the vertical movement can be easily subject to too much string bending, making the note sound more like it belongs to Blues guitar than classical guitar.
When I say sideways or lateral movement I mean from the nut to the bridge. The tip of the finger stays in position on the note, and the thumb pinched against the neck behind the finger helps you to "squeeze" more out of the note, minutely altering the pitch.
Most guitar experts like Fred Noad, Anthony Glise and David Braid in their respective guitar instruction books all agree that the student should practice on the strings from 2-6 and from the 5th to 7th fret upwards.
It is much easier to perform in these positions rather than on the first string towards the nut. It really needs to be used sparingly as its overuse can make your performance somewhat distasteful and garish... Leopold Mozart, writing about the overuse of this technique on violin way back in 1756 said...
"Performers there are who tremble consistently on each note as if they had palsy."
It still holds true today, and you would be well advised to heed the old saying "less is more". Here is a picture from David Braid's excellent book on classical guitar that demonstrates the correct way to perform this technique. Notice the arrow which depicts the movement of the fingers in a lateral way...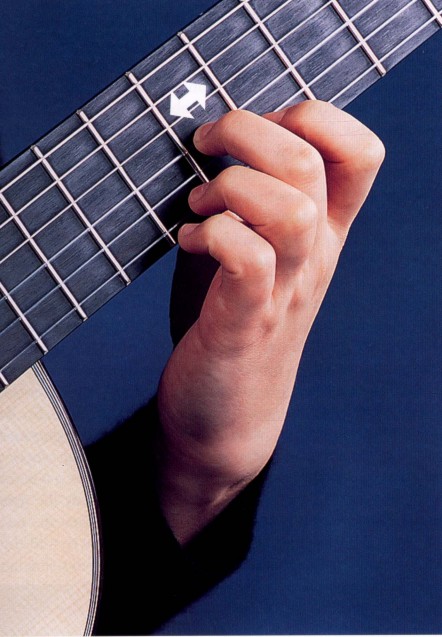 Click here to buy David Braid's book...
In contrast to what Leopold said above here's a little video showing how to play this technique a little more than needed. Because if you can "over-do" it in terms of dynamics then you'll have the "range" to be able to "squeeze" more out of this technique when required. Here's what I mean...
Don't be afraid to "up the ante" sometimes in practice. You'll notice, especially when you're nervous that your dynamics often "fall away" and you're left with a pretty flat performance. Just a tip to keep in mind :))
Click here for more than just vibrato...
Here's what Wikipedia say about this technique on stringed instruments...
"String instruments
Petrowitsch Bissing was an instructor of this method on the violin and published a book titled Cultivation of the Violin Vibrato Tone.
The method of producing this on other instruments varies. On string instruments, for example, the finger used to stop the string can be wobbled on the fingerboard, or actually moved up and down the string for a wider vibr.
Many contemporary string players vary the pitch from below, only up to the nominal note and not above it, although great violin pedagogues of the past such as Carl Flesch and Joseph Joachim explicitly referred to vibr as a movement towards the bridge, meaning upwards in pitch,—and the cellist Diran Alexanian, in his 1922 treatise Traité théorique et pratique du Violoncelle, shows how one should practice vibrato as starting from the note and then moving upwards in a rhythmic motion. In a 1996 acoustic study by the Acoustical Society of America, along with Wellesley College and the Massachusetts Institute of Technology, found that the perceived pitch of a note with vibrato "is that of its mean", or the middle of the fluctuating pitch."
For the full article go here...
I hope this has been of use.
Good luck!
More than Vibrato...
Here's a few related pages in which you might be interested...