Alexandre Tansman
"Tansman - Prolific composer and virtuoso pianist..."
He was born in Lodz, Poland on the 11th of June 1897 (the year of Johannes Brahms death) and died in Paris, France on the 15th of November 1986. Although Alexandre came from a Jewish family, it has been said elsewhere that... "the degree and level of his family's involvement with Judaism and Jewish life has yet to be established". He did, however, leave France where he'd settled and spent time in America when the dark pall of Hitler's Reich descended upon Europe. His place on the guitar time line is well deserved.
He was a pianist (a virtuoso at that) who also wrote brilliantly for the guitar. He initially trained at the Lodz conservatory and was by turns a pianist, composer and conductor of great merit. Indeed, he was a pianist with the Boston Symphony Orchestra no less!
Music Notation Book To Help Your 

Classical Guitar Playing While you're here you can get the: Music Notation Primer Ebook...

It's Content-Packed AND Reveals the SECRETS of Quickly Reading Music Notation... Bonus: There's also other music PDF's available too so don't wait - GET ACCESS NOW!

Just use the form below to gain access...
---
Back to Tansman...
He met the ubiquitous Segovia in Paris in 1921 where Segovia convinced him of the enduring charm and beauty of the guitar, subsequently convincing him to write many great pieces for it. His guitar works are: Cavatina (A work in 4 parts); Danza Pomposa; Mazurka; Suite in Modo Polonico; Variations Sur un theme de Scriabin; Homage a Chopin; Pezzo in modo antivo; Hommage a Lech Walesa; Deux Chansons Populaires; Suite.
His scope of work includes opera, ballets, other solo instrumental work, chamber music, choral music and orchestral works. His Cavatina, mentioned above, even won the prestigious International Music Competition in Sienna, Italy in 1952.
Although he spent a great deal of his life in France and abroad, he remained internally loyal to his Polish roots. He moved among the musical elite and the "who's who of musicians" of his time and although had many outside musical influences, always retained a strong national "flavor" to his music, which was lyrical and seemed to incorporate a "neo-classical style".
Here's his Barcarolle played on youtube by OSBORNEGUITAR...
Surely he must be rated with Chopin as Poland's most cherished musical "treasures" of all time.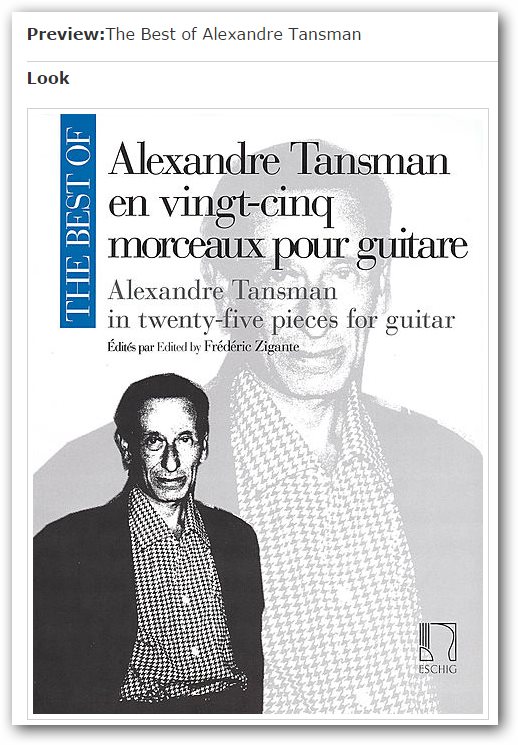 Alexandre With The Great Segovia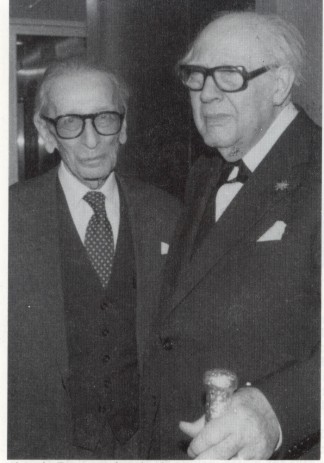 Segovia met Tansman in 1921. He wrote probably the second most famous Cavatina work for the guitar. Of course the most famous one being Cavatina that was the theme music to The Deer Hunter movie and was written by Stanley Myers.  
Join the Great Guitar Tips Ezine to get regular PDF's in notation and Tab...
Here are a few related pages in which you may be interested...
For more information on Tansman go here...