Sor Waltz
"Sor Waltz - Full of grace, charm and highly charged emotion..."
Fernando Sor certainly knew how to write an appealing waltz. With this one in G major,  he really hit the mark! There are many difficult little passages in this piece and care needs to be taken to perform it correctly. One thing to keep uppermost in your mind is to stay relaxed. You need to do this because you are constantly shifting positions up and down the guitar neck and the passage in thirds needs to be played particularly legato, or smooth as possible.
Coupled with this is the need to maintain enough speed to give the piece the required emotion, even passion. There are certain bars namely: 17-24, where you can play a slight staccato to balance the legato passages. Additionally, you can apply some rubato slowing down in bars 5 and 6, then speeding up again in the passages of thirds to "correct" the time imbalance.
The effect of this rubato makes the piece more dramatic, fuller of emotion and hence more interesting. The initial G chords at the beginning of the piece also establish some dramatic tension, and you need to play them with a slight sense of seriousness. My suggestion is not to roll the chords but play them as a "block chord" with the right hand fingers p, i and a.
The slurs (hammer-on's) in bars 4 and 12 are played with two fingers at once. Firstly you use open strings then 1 and 2, and then when fingers 1 and 2 are planted you slur using fingers 3 and 4. You'll notice in the video my 3rd, and 4th fingers slur, almost like I'm using one finger. That is they perform the slur simultaneously. It can be a difficult technique for beginners, so you need to play these bars in isolation and VERY slowly. With practice,  this technique becomes second nature.
Here is a video of the waltz...
Go here to "Like" and "Comment" on the Sor Waltz video...
A lot of people neglect these techniques. I always look for an opportunity to advance my technique. I try to make my weaker fingers stronger, such as the 4th finger of the left hand. It's a wise idea and one that will pay off for you in the future as you will be able to play your music with more technical facility and thus with more flair and panache!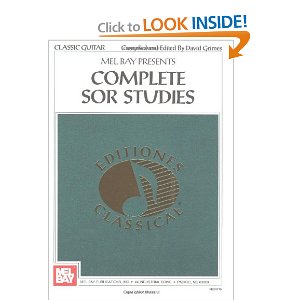 More than the Sor Waltz...
Here are a few related pages in which you might be interested...
For more information on a waltz click here...