Etude by Coste
Classical Guitar Lesson
"This Etude by Coste helps you learn the notes of the first string further up the fretboard..."
This great little piece in A Minor by Napoleon Coste helps greatly for those exploring and learning the notes on the first "E" string. Indeed, by the 5th bar of music you reach the "E" on the 12th fret. Also, included are: "B" on the 7th fret; "C" on the 8th fret; "D" on the 10th fret.
Coste was a master at devising etudes that were not only didactic but musical which is a very important consideration for all musicians and music lovers. He was, in fact, a very skilled guitarist and only serious injury to his arm prevented him from becoming more famous as a concert guitarist.
Composer: Etude by Coste...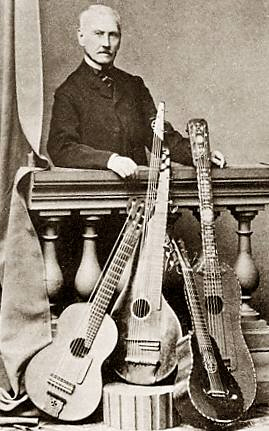 Indeed, Coste was first taught by his mother and by the time he was in his teens had become both a virtuoso player and an excellent composer. Later on, when he moved to Paris, he took up lessons with the great Fernando Sor himself.
You must try to "bring out" the melody in this Etude, not only by dynamics but making sure the melody flows as you move up and down the "E" string. Whilst the melody moves in a type of "terraced" or "step" pattern, including at times some open notes, the bass is balanced and measured against this by using a strong pulgar or thumb strike which consist of mostly open "E" and "A". Those notes ring on for the whole bar using minims or half notes. This section is repeated twice throughout the piece.
There is also a second section which provides further balance because you play arpeggiated chords which are closely positioned for the left hand. These chords are mainly played around the first and second positions on guitar.
Here is a little video of the Etude that I recorded on YouTube.com...
Go here to "Like" and "Comment" on the Etude by Coste video...
Another point of note is that you are often using the "m" finger of the right hand repeatedly which is not always the suggesting method of performing a piece. It just so happens that the position of the right hand makes it logical to use this fingering. Please remember that the fingering is just a guide, though a strong one. You may want to add your own fingering that suits your particular purposes, but in the main I try to make the fingering in this Etude by Coste, (and all the music I provide) as logical and practical as possible.
I hope you are able to get both pleasure and instruction from this lovely work.
Here is a few related resources, in which you might be interested...