Who Are the Classical Guitar Players You Like?
This page about YOUR favorite 3 classical guitar players is meant to be fun! Yes, it's all about your opinion. Why do you like them? Don't worry, there are no wrong answers. Every one is different. For a million different people, you might get a million different reasons...for the same guitarist!
Special Note: It would be good if you could write at least 300 words (about 1 word document page at size 14 font) as the search engines will be more likely to index your page.
So don't be shy and join in the fun and tell the world why those top 3 are your personal favorites.
P.S. Please make sure you read the "submission guidelines" before entering your submission. It can be summed up as..."Be original and be nice!" O.K. It's a bit more than that, but I regard this site as a "positive haven" in a world that has a lot of negativity and I intend to keep it POSITIVE. All negative rubbish shall be removed rather quickly so...please!...be warned. Please use the "?" question mark help signs. You'll find them near the entry boxes below to help you with your submission.
O.K. O.K. I know you want to get on with your top 3 classical guitar players so let's go. Just fill in the form...
Here's an example of a great post by James McCutcheon of Alabama, USA about his 3 favorite classical guitar players...
Leona Boyd, Andre's Segovia, Julian Bream
Their repertoire interpretation, un-pretentiousness for presentation (and lack of concern to offend critics of others for liberties taken to change or alter certain needed small aspects in transcriptions of phrasings to accommodate the flow of music to make sense to the ear).
Feeling technical ability and a deep sense of keeping the originality come to play hear when I look deeply into this 3 wonders for me.
The early records are not good for Andres, but they captured what was available, but the remastering is sufficient for any decent ear.
I feel dwarf by the wonderful energy, love and meticulous efforts each of these 3 great people have put into ensuring future generations of students teachers parents and listeners will have the most rich repertoire of sheet music and the best arrangements and ensemble music from which is available to pull from for whatever the occasion.
I know the benefits to support our world community of Guitarist is one of the most important work we could begin to manifest as this time have an endowment that would shrink all the others. It is time to do it. NOW!
Love, peace and rest upon the sounds of music that inspires our brains and emotions to places that no other music has the ability to do. I love God, Guitar and well shaped nails Namaste.
Back to Your Favorite Classical Guitar Players...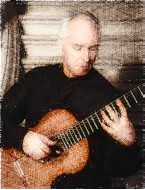 Well, there's nothing left but for YOU to go and post your own 3 classical guitar favorites :))
Kind regards, Trevor M.
Owner and WebMaster of LearnClassicalGuitar
For more than your 3 favorite Classical Guitar Players click here...
For more on Classical Guitar go here...