Celedonio Romero
The Classical Guitar "Daddy of Them All"
"Celedonio Romero - Guitarist, composer and poet, perhaps best known as the founder of the Romeros guitar quartet ..."
Romero was a very brave man indeed, more so than your average classical guitar player. Not only did he have the courage of his convictions in publicly opposing a despised dictator in General Franco, he also decided to leave his beloved country of birth and make a new life for his family in America with little more than loose change in his pocket. How many of us today could say we live or lived with such commitment and conviction.
The strong character of Celedonio is immediately apparent in all his off-spring including his sons Celin, Pepe, Angel and their children who are included in the current incarnation of the Los Romeros Quartet. Indeed they are widely regarded as the 'Royal family of classical guitar'...
No other guitar family in history could be more deserving of such a title so much have they done to advance the cause of classical guitar and so deep and rich is their talent on the instrument. It all began with the young Celedonio Romero displaying an early gift for the instrument. Born in 1913, by the time he was 10 he had already given his first concert on the classical guitar and his studies continued until the age of 20 where he was able to give his first formal concert.
Unfortunately at this time Romero's leftist leanings were starting to make him unpopular. Indeed, some years later the Fascist Franco regime did restrict him heavily in his movements throughout Spain and the rest of Europe. Because of these 'distractions" he settled in Southern California (which reminded him of his native Madrid) and set to work to establish his reputation and that of his talented sons. Indeed, they were so popular at one stage that they were a guest highlight on the Ed Sullivan show thus being exposed to millions of viewers, many of whom took them to their hearts.
Celedonio instilled into his sons not only great technique and musicianship but probably more importantly their own voice. He taught them to be creative musicians who expressed themselves with their own distinctive, strong "voice". Each son, in turn, would become a virtuoso on the guitar and in the fullness of time so have their children. Quite a remarkable feat really when you consider that there is now an established linage spanning three generations who also affect the hearts and minds of other guitarists of all persuasions all around the globe.
Celedonio Romero and his talented sons went on to achieve fame and awards, many times over the years, but it was his love for the instrument that really shines through. It is said that he believed every note you played reverberated around the universe for all time and that you should never waste a musical note lest you were committing a musical sin. Such unadulterated, pure love for the guitar and even sheer attention to detail surely commands our respect.
Although Celedonio Romero passed away in 1996, he established a legacy that will endure for a millennium and beyond. As long as there is classical guitar the name Celedonio Romero will be revered and fondly remembered.
You can check out a great little video of Celedonio's son Pepe on YouTube playing a fantasy by Celedonio...
---
Celedonio Romero Sidebar - Did You Know?
Celedonio Romero was actually born in Cuba as his father was working there at the time before he moved his family back to Spain...
---
I often wonder if General Franco had Celedonio in mind when he said in his last message to the nation before his death in 1975... "I ask pardon of all my enemies as I pardon with all my heart all those who declared themselves my enemy, although I did not consider them to be so."
Long live Los Romeros!
Click here for some more Romero magic...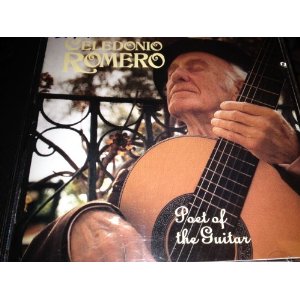 You can find more about the Romeros family here...
https://en.wikipedia.org/wiki/The_Romeros