Paulino Bernabe
"Paulino Bernabe - Classical Guitar Maker Extraordinaire..."
The year was 1932. John Phillip Sousa, composer of Semper Fidelis and Stars and Stripes Forever died. Amelia Earhart was to fly solo across the Atlantic Ocean - the first woman to do so. Hitler and some of his cronies were skulking around Germany laying the seeds of possibly the most disgusting episodes in world history. The Sydney Harbor Bridge was opened in Australia by the then premier of New South Wales Jack Lang. There was a famine in Russia, and the U.S. celebrated the 200th anniversary of Washington's birth. In that very same year in Madrid, Spain, Paulino Bernabe was born!
He is not only one of the finest classical guitar makers we have seen but is inextricably linked to classical guitar history. To explain further, not only did he study with possibly the most famous modern day classical guitar maker in Ramirez, but he actually studied classical guitar playing with Daniel Fortea, famous student of Tarrega. 
Bernabe senior...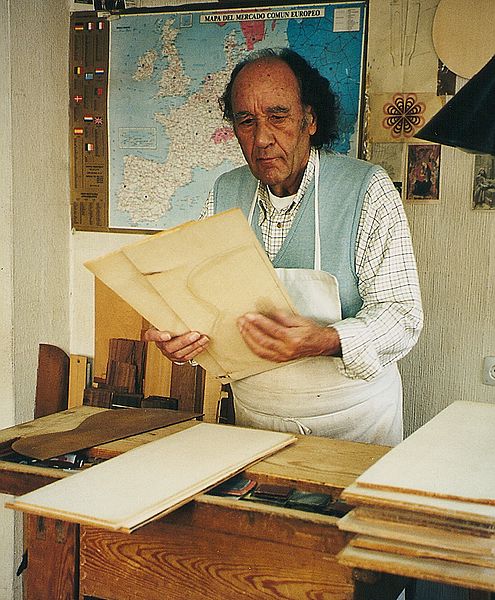 via Wikimedia Commons
Indeed, he was still in his formative years when he came under the instruction of Fortea and studied for at least four years with him. This "two-pronged" connection ensures he will always be coupled with the history of classical guitar.
His trade was that of cabinet maker, like so many great classical guitar makers were or are. In fact, it was at the rather late age of 22 that he was apprenticed into the guitar making trade with no less than the famed Ramirez workshop. By the time Segovia took a "fancy" to the Ramirez instrument, he had become a leading guitar maker in that firm. He kept working away and honed his skills for 15 years until he felt he had the knowledge and where withal to go it alone. Go it alone he did!
Viewing it through the context of history, the world was changing dramatically. Dylan, the hippie movement, the death of Martin Luther King, civil unrest and the U.S. mired in Vietnam. It was then that he started his own old-world workshop in 1969. A stark contrast to the ever-shifting new age, he continued with traditions that were age-old.
Here's some guitar models from Paulino Bernabe at Guitarras de Luthier, Madrid 
There must have been something so satisfying for Paulino personally to work away in his workshop, the smell of the wood, the slow but constant shaping of the various pieces, the contentment of the finished instrument...
"And He looked at all that he had created and saw that it was good!"
Well, perhaps it's a stretch to compare him with Him :))
His work is "good" to this day. I must say I'm a little biased as I've recently purchased a "Paulino Bernabe 20" and I love it! Not that Bernabe himself was full of ego. Rather, he stated of his guitars...
"Some guitar makers feel that they have made instruments superior to all others, but I do not think I have as yet produced the best guitar ever made. So far, there is no equivalent to a Stradivarius among guitar makers, but one day I hope to produce the exceptional guitar."
Continuing to experiment with different strutting and new ways of construction, he seemed to settle on some very effective and long lasting designs. Indeed, his guitars have been used by many famous classical guitar players over the years including the 10 string he made for Narciso Yepes and recently, the one and only John Williams had bought one. His son, Paulino junior is carrying on the tradition since his death in May of 2007.
To read more about Paulino go here...
Here are a few related resources in which you may be interested...