Adelita
Classical Guitar Mazurka
Adelita is a brilliant little mazurka by Francisco Tarrega that is often used as a companion piece for his Lagrima. A mazurka has its origins in Poland. It was popularized on the piano by none other than Chopin himself.
The mazurka is supposed to be played in a moderate to fast triple time, although most people play this piece "lento". I tend to play it as a traditional mazurka, faster than most, though with some rubato (Rubato literally means "robbed". It is a slight slowing, then quickening of the tempo and if done properly can make a piece seem so more musical) to give it more appeal and dynamism. Also, the mazurka usually has a strong 2nd or 3rd beat, and you can definitely hear it here in this piece.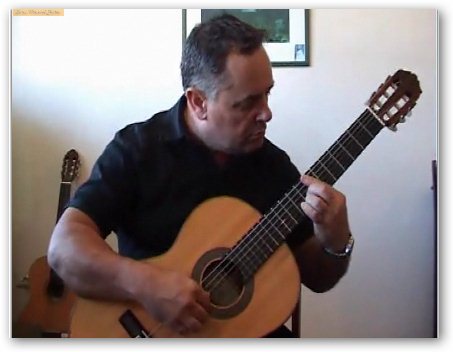 You can see on the video below that the scale passages of the E minor sections in bars 4 and 20 (same passage repeated) are where the rubato is most effective. Also in the middle E major section, in bars 11 and 12, also helps with this effect.
This piece is probably best described as an intermediate one for classical guitar though many beginner/moderate guitarists can manage it at a slower tempo. There are some difficult fingering passages for beginners including using fingers 3 and 4 together on the left hand, barre sections and portamento (glissando) techniques.
You're advised to practice this piece very slowly and carefully until you can achieve a good tonal quality especially on the glissando slides. You need to be accurate and know what you're doing and where you're going. Additionally, there are some difficult grace notes played using the 4th finger of the left hand whilst holding down a barre chord. You really need to develop strength, dexterity and flexibility if you are to pull this off successfully.
You'll notice in the video that a mixture of rest and free strokes are used. The rest stroke is used when you want to accentuate the melody line, especially in the glissando sections. Why this guitar piece so impresses me, is that Tarrega has again shown us his mastery of form by beautifully balancing this piece via minor and major sections. The effect is pleasurable, both in what you hear and how it "sits" guitaristically. The guitar is utilized along its fingerboard and again this balance is underestimated and is often hard to achieve unless you understand the guitar, which of course, Tarrega did.
More inf on Tarrega, compser of Adelita...
I hope these study notes on Adelita have been of use.

Go here for more information on Tarrega...