Llobet Piece
El Testamen Den Amelia - Folk Song For Classical Guitar
The Llobet piece, El Testamen Den Amelia, basically translates as the last will of Amelia. This haunting melody was written, or rather, was arranged from a Catalan folk song time out of mind. Indeed, Llobet himself was a Catalan, being born in Barcelona, the capital and most populous region of Catalonia.
Throughout his life Miguel Llobet had a penchant for adapting many Catalan folk tunes. Using simple harmonies and other "effects" such as harmonics, Llobet "wove in" the melody lines skilfully so that even the most hardened person must "surely be effected by the emotion." Even though, he died at the reasonably young age of 60, Llobet's influence is still quite prominent today mainly through his transcriptions. Many people don't realize that Llobet was a great virtuoso of the guitar and wrote music of a very high standard.
At one stage,  he even taught the maestro Segovia himself, although this fact is often disputed. Whatever the truth, I'm sure he did have some influence on the young Segovia. Llobet was even a talented painter and played the violin and piano, as well. He moved in highly artistic circles including Debussy, Richard Strauss and the famous classical guitarist Francisco Tarrega.
He was, in fact, one of Tarrega's star pupils. Llobet gave many successful concerts both in his native Spain and throughout Europe and South America. He even performed before Spanish royalty in Madrid in 1903. He is also remembered for making the first recordings for classical guitar between the years 1925-30.
Llobet died in 1938 officially of pleurisy, but some say he was devastated by the siege of Barcelona in the civil war. Whatever the reason for his early death, the world of classical guitar was robbed of a great talent who could have given so much more to guitar lovers everywhere. More's the pity. There is no pity when we turn our attention to this piece...El Testamen Den Amelia!
There are a few technical difficulties you'll need to master to play this Llobet piece effectively. For example, the 6th "E" string needs to be tuned down to "D". It's called D Drop Tuning...
Just click on the link if you need to learn how to perform it or need a "re-fresher." Once you've done that you can print off the PDF file below and start to practice the Llobet piece. The first thing you'll notice is that the melody is played on the 2nd or "B" string for the majority of the first section except for a few bars. It has it's own tonal beauty though and really sets the tone of the piece, which is hauntingly beautiful in my opinion.
It seems to elicit that same feeling of bittersweet melancholy much like you get when you hear the cello part of the 2nd Brahms piano concerto in the slow movement. It's hard to describe, but it's like a great well-spring of emotion that is forced up from your solar plexus, and it's nigh on impossible to stop! I suppose that's why the great writers are such great writers.
Additionally you'll need to be careful of the harmonics in the second section of this Llobet piece. They are artificial harmonics that are played right up towards the lower bout of the guitar. You'll notice on the PDF of the music notation I've put where you actually play the harmonics (in Roman Numerals). This should help you to "get your bearings" as it were.
Here's a video of the piece...
Go here to "Like" and "Comment" on the Llobet Piece video...
Some other considerations may be to look at the page on playing harmonics and about learning the notes on the guitar...
The Llobet piece, El Testamen Den Amelia, is not an easy piece for the beginner. I would approach it with some trepidation. You really need some solid skills "under your fingers" to pull this one off. As always, work on the piece slowly and consistently and you'll yield much better results. Don't forget to do a lot of lead-up work including looking at these excellent publications, as well as the other pieces on the lessons page.
Good luck!
Here are a few related resources in which you may be interested...
More than the Llobet Piece...
Miguel Llobet Catalan Folk Songs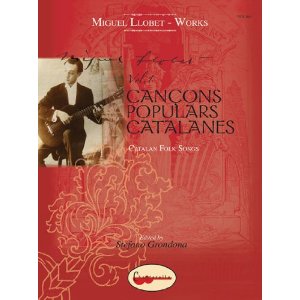 For a comprehensive list of classical guitar composers go here...