Sight Reading Guide
Sight Reading Guide - Make sight reading and music memorization a snap...
I've provided this Sight Reading Guide because it's a sad fact, but many guitar players fear sight reading and memorizing their pieces and try to avoid it at all costs. But in reality, sight reading and memorization is like anything else – the more you practice it the better you will get! This guide is designed to give you the techniques that will lead to confidence in sight reading and memorization of your music. 
To download the Sight Reading Guide right click and 'save as' or click on the link below the graphic...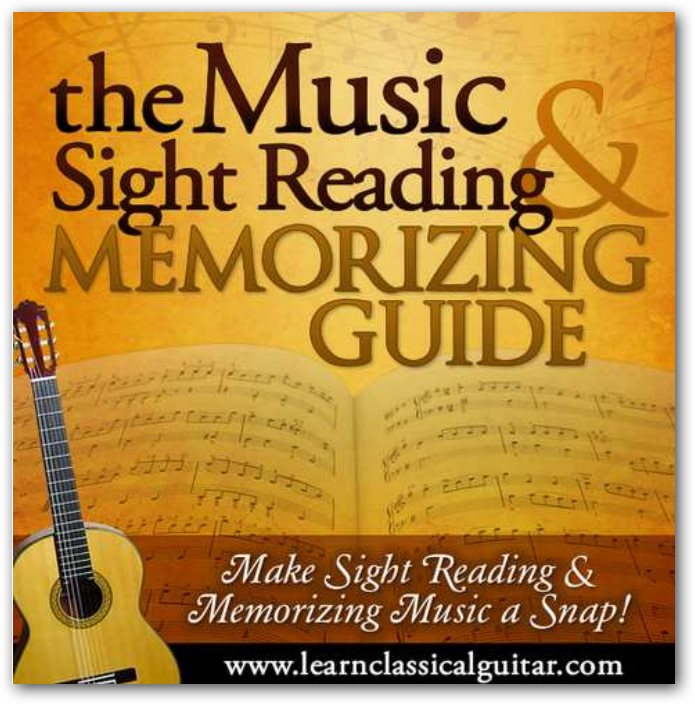 You need to form habits so that they become second nature. You do this by doing it consistently, day by day, week by week, year by year. If you're like the proverbial "tortoise" (as in The Hare and the Tortoise) you'll find yourself gradually gaining mastery of not only sight reading and memorization of your music, but ALL of what you practice.
Trying to do the big, quick "brain dump" never works. Rather it's the "slow and steady" pace of the tortoise that always wins out. Which method are you going to use? Good! Let's start with sight reading in Section 1 and move on to memorization techniques in Section 2…
Here's a little excerpt from the Sight Reading Guide...
Tip 8: Look for natural "phrases"
If you try to compare your music to a singer you'll realize there are always phrases (a unit of melody or group of notes in succession) in music. And at the end of each natural phrase is where the singer would take a breath. The guitarist also has to "take a breath" when playing music as this will indeed make your interpretation more musical and the whole piece "breathe" in general. In other words, it won't have the feeling of being rushed, or stilted, or in some other way unnatural and unpleasant to the ears. Well, if you could detect the natural phrases in music you'd stand a better chance of playing and sight reading more accurately and successfully.
So what do you look for in phrases? Often times the music will have "slurs" over it. These are markings that look like ties BUT cover a series of notes and mean that you play all the notes under the markings in a legato (smooth and connected) way. These are NOT to be confused with guitar slurs which are the hammer-on, pull-off and trill. Here is a piece from the beginner series that has slur marks over the phrases…
If you have further questions or would like to see something added in future editions of this e-book let me know by using this contact form… 
http://www.learnclassicalguitar.com/contact.html 
I hope you enjoy this resource I have made for you.  Scroll down and leave a comment below.
Kind regards, 
Trevor M.