Classical Guitar Study Course
The Classical Guitar Study Course is now available. Just click on the link below to get started! It's like an INSTANT classical guitar library with all the hard work done for you...
Now with over TWO YEARS worth of weekly lessons inside the membership portal for the incredible one-off price (see video below)...
Go ahead and CLICK on the green "Get Started" button below to get immediate access...

Click here for instant access...
Here's a little "Sneak-Peek" inside the Classical Guitar Study Course Portal...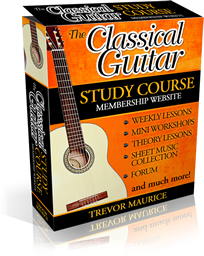 Click here for instant access...
The "backbone" of the course is the studies & etudes of the Guitar Masters, namely: Aguado, Carcassi, Carulli, Giuliani & Sor...
These are all arranged in order to help YOU learn in an efficient and effective manner but to your own time-frame...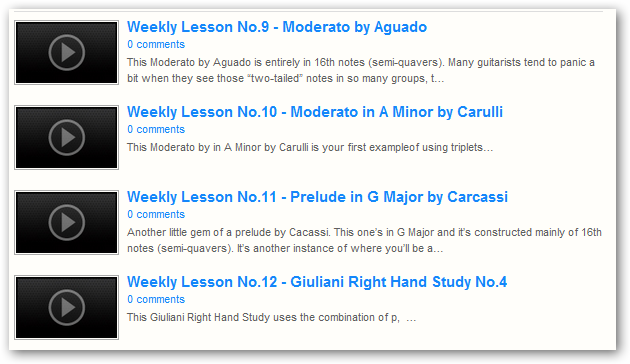 Click here for instant access...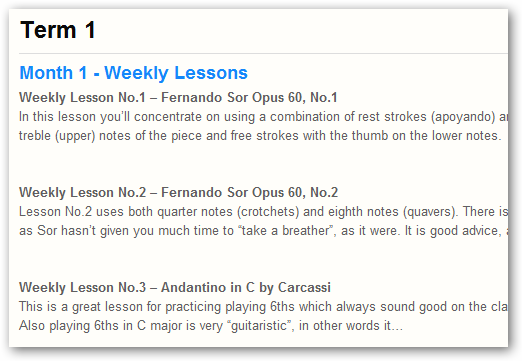 Once you click on the required lesson you'll get:
Both full speed performance & slow-close up versions of each piece...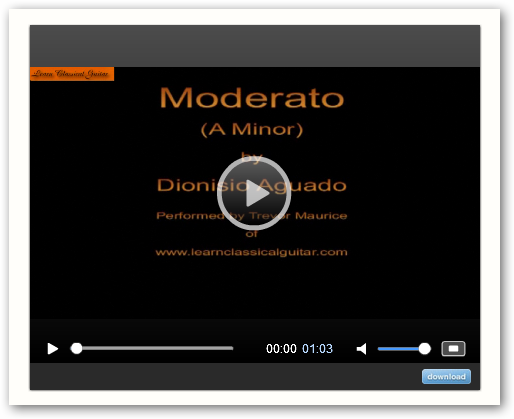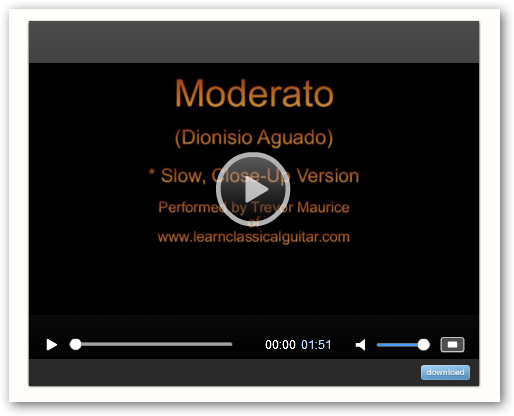 Click here for instant access...
Study notes to help you with your interpretation & performance...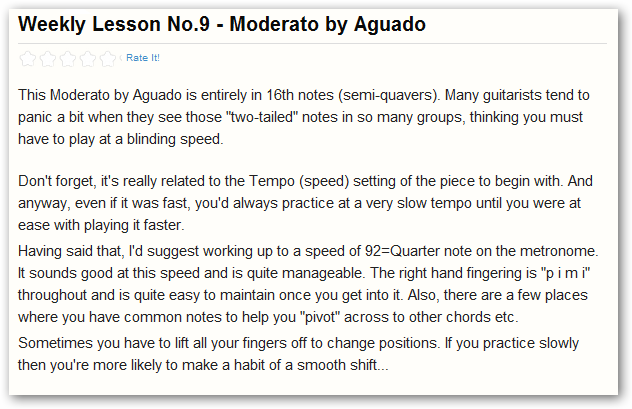 Click here for instant access...
 P.D.F.'s of all pieces, including both music notation & Tab...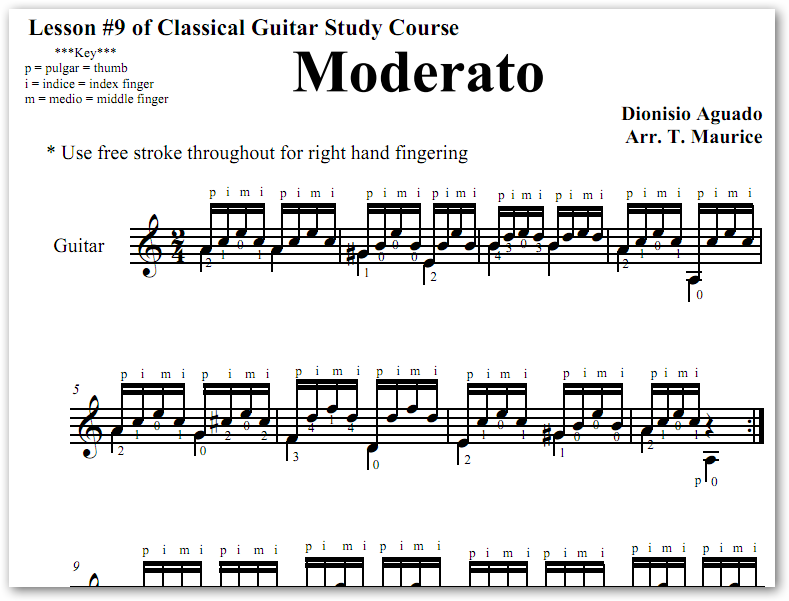 Click here for instant access...
Study Course Bonus #1: Extra repertoire in the form of THE Classical Finger Style Sheet Music Collection -
Yes, it's FREE with your subscription & there are FREE monthly updates to boot!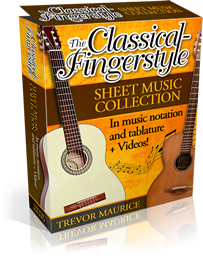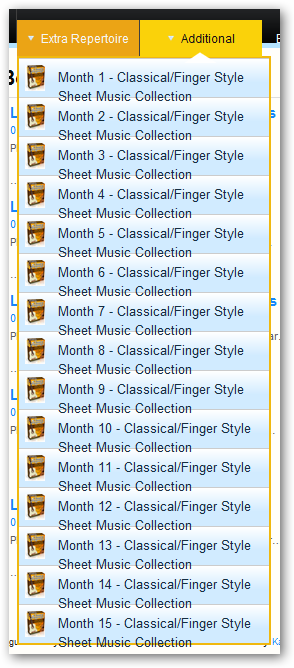 Click here for instant access...
Study Course Bonus #2: Additional study areas to help, for example...
Scales (in three positions on the fret board) to help with fluency & speed...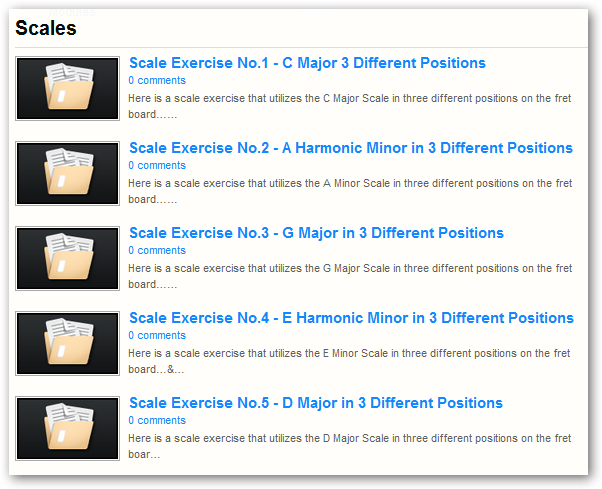 Study Course Bonus #3: Theory lessons to help you understand what your playing & technical terms & names...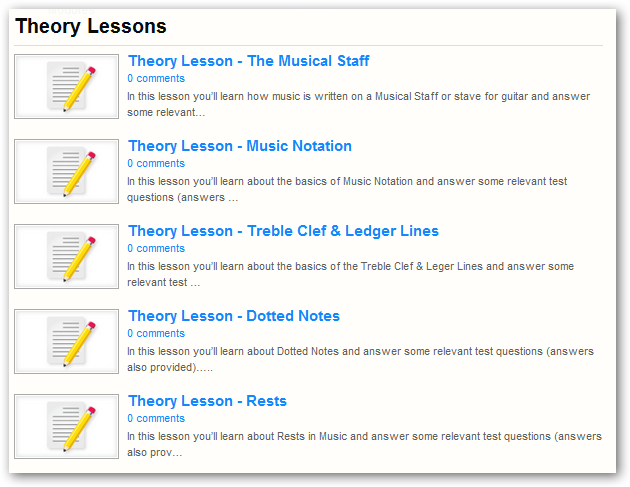 Study Course Bonus #4: Mini Workshops to help develop your technique...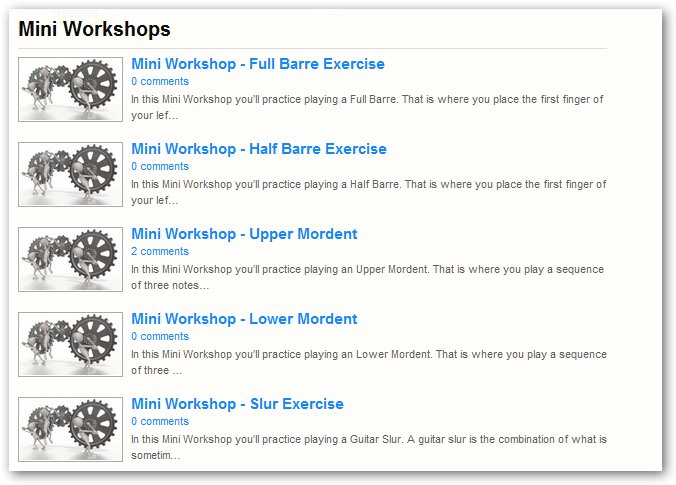 Study Course Bonus #5: Fret board exercises to help your fluency around the guitar neck...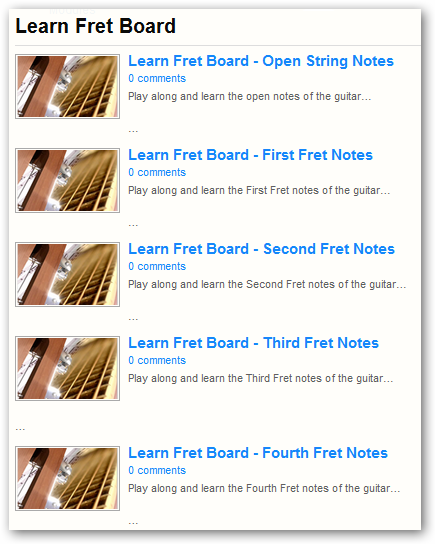 The Classical Guitar Study Course integrates seamlessly to make everything "headache-free" for you. Everything is in one spot, so you don't have to go looking everywhere to find the resources to improve your playing - It's all laid out for YOU!
Don't just rely on my say so. Let my satisfied customers do that for you...
What Others Are Saying
I'd really like to express how valuable the Classical Guitar Study Course has been for me. The progressive lessons have helped developed  both my technique and build an interesting repertoire. The video with each piece demonstrates how to bring expression to the music and with difficult pieces the "play along version" helps get the timing and fingering in order.
Most importantly you can replay them as many times as needed to get mastery over the piece. I find that even when I have progressed to other lessons it's good to revisit the earlier lessons to refine my playing. I could not have progressed so far without this course, having access to a tutor 24 hours a day has meant that I can schedule practice at times that suit me best.
I now work through the lessons as prescribed and have found that my progress and motivation have improved greatly. I am very pleased I decided to take this course and would recommend it without reservation.
Thanks Trevor for all your hard work pulling such an excellent learning resource together!
Vince Whittle
Dover, England
The Classical Finger style Course is a very well-balanced approach to the study of the Classical Guitar. It is "Classic" in such a way that, in the given sheet music and its examples, reference is made to the great masters and teachers.
So you build up a valuable basis, and simultaneously a repertoire for yourself and rich resource of sheet music to fall back. The course is a "Three L" approach that I particularly enjoy: look, listen and learn in such a way that it makes maximum use of the computer and brings the teacher very close by means of video samples.
Particularly emphasis is given on starting slowly by giving video instruction in a slow mode first before stepping up tempo. You won't miss a lecture appointment because it is always there on the site.
Eldert,
Netherlands
I was delighted when I found Trevor's Learn Classical Guitar web site. The sheet music was fantastic and not only that he also provided videos so that you could hear how the piece should be played, and you could even play along with him. I was rapt. I could feel my ability to play improving each week.
So when he put his members site up I was very keen to sign up. This is unusual for me. I was so impressed with how generous he was in what he provided for free that I was keen to support him in his new members site. It was money well spent.
I get so much satisfaction in playing the pieces - slowly, slowly. Then gradually improving to be able to play them at full tempo. I just love it.
For me, it feels like he is my guitar teacher and I am his student even though we live a long way from each other and have never met.
Teresa Lynch
Queensland, Australia
The guitar study course and the finger style collection are absolutely awesome in their range and content.  I just don't know how I am going to find the time to take advantage of it all.
Your videos are great and truly inspiring, and it is so good to be able to print off the music. Value for money?  Absolutely full marks!  Keep up the good work.
Bill Ramsbottom
Derby, United Kingdom
Trevor, like so many others I have waited with great anticipation for this day to come, and I was not disappointed.
I have struggled with trying to find a format for what to practice and when to practice it, then really ending up doing neither. You have covered that nicely, and I now can get down to do what I really want to do, and that is to practice.
You have done an excellent job putting this together, and I must say thank you. So far I rate it A Plus and the more I get into the course I will let you know then if my feeling is still the same.
Until then well done and I appreciate the amount of work it was for you to put this all together, and at such a bargain low price I must add...Job well done!
Mike
I just want to say that your approach and the thoughtful construction of the lessons has been a tremendous help to me as a late learner of Classical Guitar. I have played various forms of acoustic guitar for over 40 years. I have wanted to study Classical Guitar for a long while but could not afford lessons on a regular basis.
When I was offered an opportunity to become a lifetime member of your course, it solved many difficulties for me.
I appreciate that you offer sheet music and tabs and both normal and slower speed video. Thank you for all the quality hard work you have put onto training others. I am glad to be your student.
Joseph
Buffalo, United States
Although I have been a subscriber since August 2009, I have only been following the course properly since the beginning of the year.  I am finding both challenging and fun, and above all really engaging.
I started by practicing one piece per week for about one hour per day.  As the technical difficulty increased I find that I now need to devote two weeks for each piece, and should allow more time to practice.
I am now beginning to appreciate the music as well as pure technique, especially that of Aguado and Sor.  Their music only comes alive when the performance details are observed.
I am now committed to following the course to the end and expect it to take at least a year longer than the two indicated.
It is well worth the little money, and I can thoroughly recommend Trevor's course to anyone who is seriously interested in learning the classical guitar.
John Hills
Brussels, Belgium
Thank you so much for the wonderful course you have prepared. I am a complete beginner at the guitar and do not have any background in music, but your course is so helpful that I believe I'll be able to progress.
The course is set in a very helpful and didactic way. The videos are just great, mainly the close-up slow versions are a treasure for me and I guess for all the other students.
Your attitude and patience help take away most of the pressure involved in learning new skills. You are such a kind, respectful and understandable teacher that it makes me feel very comfortable, and I am sure I will be able to ask any questions or specific advice when the need arises.
Playing the guitar has always been a dream for me and I wanted to thank you for helping me makes this come true
Genevieve
South Africa
This course has got be the shrewdest Study Course that I have done in a long while. There  are heaps of valuable content here i.e. sheet music, theory lessons, and practical demonstration videos of the pieces, all to help the beginner or more advanced player.
I'm glad I found Trevor's site as I probably would have wasted a lot of money going elsewhere.
Terry
United Kingdom
I am still working through the first year of the Study Course and have some way to go, but I have found this classical guitar course the very best available.
I have many supplementary books on technique such as Noad, Parkening, Carcassi, Mel Bay and Tennant and refer to them less and less as my progress using Trevor Maurice's online course with printed materials and video is not only more enjoyable but provides more motivation. For me, at a busy age of 74, it is worth the small course fee many times.
I can not recommend this course too highly, join in and have fun.
Roland McKay
Queensland, Australia
Thanks, Trevor for all the work you put into this Study Course which is great. It's helped my playing technique and musical understanding enormously, and I've improved a great deal since I first started it
I've even played some of the music in your lessons to my guitar circle. I now have more confidence in my playing
Keep up the good work!
Geoff Gorringe
Manchester, United Kingdom
The region where I live is known for its music schools and its musical camps in the summer. Because of my irregular working schedule it is impossible for me to join any of these.
I have tried out different methods of learning classical guitar with books and trough the web. This Study Course is for me the most complete and handy. It gives you time to learn at your my pace.
You can read, hear and see how the pieces are played. It also stimulates you to go beyond just playing by giving you theoretical and historical information when you want.
Albert
Belgium
Trevor, my! my! my! Let me tell you how blown away I am with this Study Course.
I can't begin to tell you how impressed I am with this. Just the appearance alone causes desire to get more involved with my practicing and to use the course to its full intent rather than just the weekly music.
I am so thankful that you put the effort in to provide your global students with a course second to none. Well done!
Mike Lucas
Belle River, Canada
If you need to email me with a problem or query, or even to say something nice :)) you can do that here...
Use this form...
* The use of this form ensures that the spam-bots don't harvest email for spam purposes due to the requirement of a human entry.