Save this page on Delicious
Music Notation Primer
Music Notation Primer - Your Quick Reference Guide to Reading Music
The Music Notation primer is useful because many people are often uneasy when it comes to learning music notation, yet it is the best tool we have to fully understand the composer's intention for the performance of the music in question, at least in classical music. 
With just a little perseverance and application ANYONE can learn musical notation, thus opening up a world of joy and pleasure previously closed off to them. 
To rely only on your ear or the use of tablature restricts you from fully appreciating music in my opinion. Although both ear development and tablature are important tools in their own way you should strive to have more "tools" in your armory - not less!  
And understanding musical notation is a very powerful tool to get to the "heart" of a musical performance – one that everyone should strive for that is even remotely interested in music and our great instrument, the guitar!
To download the Music Notation Primer right click and 'save as' or click on the link below the graphic...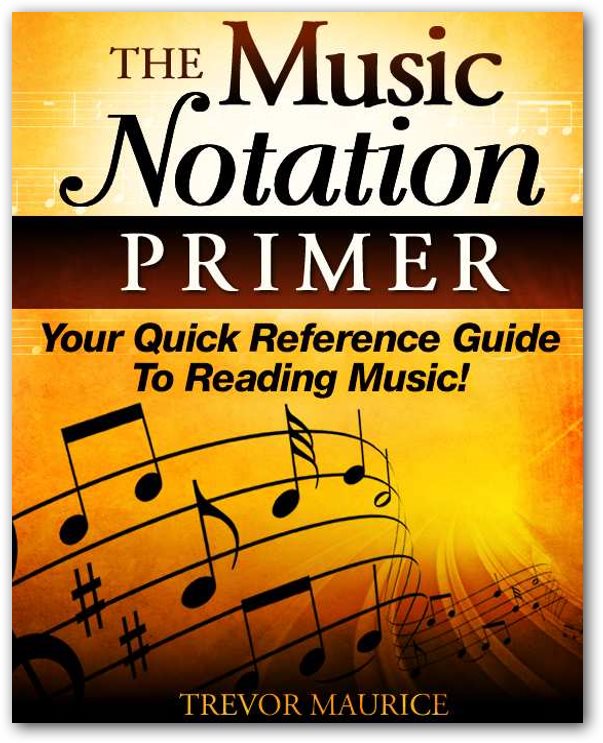 Here's a little excerpt from the book...
Chapter 6 - How to Group Notes and Rests 
Musical notes and rests are usually grouped in a logical way. This is for ease of reading and understanding of course but it does take a bit of practice to understand and recognize what you're looking at. When you're used to how notes and rests are grouped you'll read new music much faster. 
Additionally, you do this in both simple time and compound time. Simple time uses a time signature with 2, 3 or 4 as its upper number e.g. 2/4, 3/4, 4/4 (simple duple, simple triple and simple quadruple respectively) whereas compound time uses time signatures such as 3/8, 6/8 and 9/8. 
In simple time for instance, when you group notes such as eighth notes they usually add up to quarter notes. Here's how you would group 8th notes in 4/4 time and 3/4 time... 
I hope this book has helps you to gain a basic understanding of music notation and set you on the road to finding out more on this fascinating subject and adding to your personal growth! 
If you have further questions or would like to see something added in future editions of this e-book let me know by using this contact form… 
http://www.learnclassicalguitar.com/contact.html 
I hope you enjoy this resource I have made for you.  Scroll down and leave a comment below.
Kind regards, 
Trevor M.