Videos For Monthly Music Page
*** Note: Now WEEKLY - To Help Build Your Skills & Repertoire! ***
For Classical Guitar Sheet Music click on the link below to subscribe to my YouTube Channel & get a new piece of music EVERY week...

Subscribe to my YouTube Channel...

Check out this 'Videos for Monthly Music' page to get a good idea of how the music should be performed, especially if you don't read music notation My last 3 uploads are included with the accompanying PDF in both notation and tab. When I say "get an idea of how the music should be performed", I mean in terms of tempo, timbre or tone, dynamics and the like.
Tempo is of course, the speed of the music. Obviously, different types of music such as the allegretto, waltz and prelude, to name a few, are often played at different speeds or M.M. markings (Maelzel's Metronome). Even waltzes that are in different time signature such as 3/4 time and 3/8 time will be played at different speeds the latter more often the faster unless otherwise directed.
Timbre or tone often means on classical guitar the "beauty" or "warmth" of sound. This is achieved by various techniques and angles of the right hand fingers, but it can be affected by mood, the inner thought processes and even artistic development of the "inner musician". This is getting a bit "ethereal" and you might only read about it here on my Videos page, but just think of the world of difference between Andres Segovia, John Williams and Julian Bream, not to mention modern day classical guitar geniuses such as Slava Grigoryan and Sharon Isbin (whoops, sorry! I mentioned them :))
Dynamics again means the development of your right hand to produce sound from pianissimo, which is very soft, all the way up to fortissimo which is very loud. Training your right hand in classical guitar is "key" in this skill because, unlike the piano, you have to play both bass and melody with the fingers of your right hand (vice versa for lefties). The bass, usually played with the thumb is most often played softer than the melody which has to stand out from both the bass and other harmony notes.
On piano, of course, the melody is usually played with the right hand and bass with the left. The guitar also doesn't have hammers and the notes are produced by direct contact with the skin and strings. You can now see the problems and difficulties you're up against, and you have overcome and indeed, master.
I hope these videos will go some way to helping you do that and play with more style and flair! Thanks for visiting my Videos for Monthly Music page.
Kind regards,
Trevor M.
Study in A Minor by Sagreras
Noche De Estio
Granadina - Traditonal Spanish
Andante in A Major by Kuffner
Wilson's Wilde - Anon
Espanoleta by Gaspar Sanz
More than Videos for Monthly Music...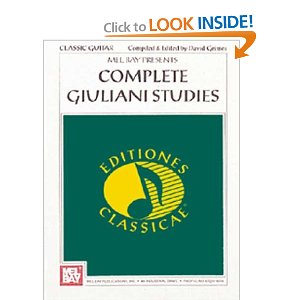 And go here for more videos...