Classical Guitar Sheet Music
"Finally! A guitar sheet music page with pieces of music + videos that are useable..." 
Welcome to the sheet music page! Because playing classical guitar requires a high degree of technical skill let me suggest a book that will be of value in terms of saving you time and money. It's called Pumping Nylon by Scott Tennant, and it's one of the best value for money guitar books for technical development that you'll find anywhere on the market. It has many exercises, which if practised diligently, will improve or maintain anyone's technique.
Scott Tennant is a master guitarist and a very fair minded person who presents information in the manner than would a coach or advisor, rather than in a heavy-handed or authoritarian way. The Pumping Nylon guitar book has continued to be a world-wide best seller since the first print run!
You can buy your own copy here...
Here is a summary of the benefits you receive...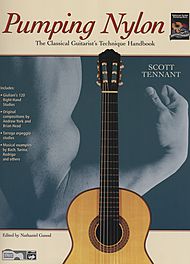 Contains an excellent section for the left hand to give you finger independence and accuracy...
There's also a great section on the right hand to help you make a quantum leap in your tone production
Flamenco techniques are included (in the book) to help you learn practical applications of rasgueados and thumb strums...
There's a daily warm-up routine for ascending and descending slurs, triplets and much more...
Learn the most effective and efficient tremolo technique. Your beautiful and steady tremolo will make you the envy of fellow guitarists...
Learn to control the velocity and accuracy of your scale playing. The fastest and most effective method to play those super-fast scale runs and achieve faultless string-crossing technique...
Crisp arpeggio playing. Learn how to synchronize both hands with Tennant's "full and sequential planting" techniques that make it easy to produce an amazing tone...
Contains excellent do's and dont's so you can "short-cut" your learning time...
There's excellent information to help you protect your hands and body. Stay pain-free all your guitar-playing life...
Do you suffer from performance anxiety? Learn how to overcome it with sound, practical tips you can use immediately...
Two hours of instruction on DVD (or video if you like)...
Includes everything from the famous daily warm-up routine to nail shape and care. You also see close-ups of the hands with split screens and musical examples...
Scott Tennant's best-selling guitar book is brought to life in this classical guitarist's technique workout DVD.
In summary, it's a great product to sharpen up and develop your technique to make you sound like a pro! The exercises and the DVD make it easy to follow. It helps to develop your own excellent technique, tone and facility on guitar when reading guitar sheet music.
To order now just click on the link here...
Now, here is a few pieces of guitar sheet music for you, starting with:
1. Andantino Grazioso by Carcassi...
2. Prelude in G by Carcassi...
More 
Classical Guitar Sheet Music
For great classical guitar sheet music,  you need look no further. I've covered all the best composers and epochs on this one page. From Aguado to Tarrega to Brouwer to Dowland. From ancient to modern to classical to romantic the great composers are here.
It's a "one-stop shopping" page you're really going to love and appreciate! Just browse the titles below and select. You're just moments away from building your own library of music for hours of playing pleasure... And don't forget, you can view this music in a Music Pad Pro an Apple Ipad or an Amazon Kindle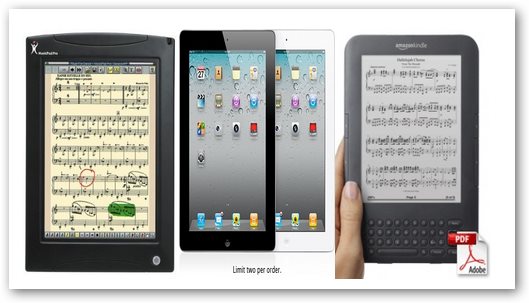 Browse these ten excellent items...
Great Classical Sheet Music #1 
Canon in D By Johann Pachelbel (1653-1706). Arranged by Simon Salz. For solo guitar. This edition: Classical Guitar TAB. Classical Guitar Solo; Guitar TAB; Masterworks; Solo; Solo Guitar TAB (E.Z./Int). C.P.P. Classical Guitar Tab Editions. Baroque. Intermediate. Guitar tablature single. Guitar tablature and standard guitar notation. 4 pages. Published by Alfred Music Publishing (AP.0311CGTX)
Great Classical Sheet Music #2
Collected Works For Solo Guitar By Heitor Villa-Lobos (1887-1959). For the guitar. Editions Durand. the 20th Century. Difficulty: medium. Guitar solo book. Standard guitar notation (no tablature), introductory text and performance notes. 95 pages. Editions Durand #ME0933300. Published by Editions Durand (HL.50560932)
Get the Great Classical Sheet Music #3
Spanish for Guitar - Masters in Tab (Early to Intermediate Solos by the Spanish Masters). Edited by Howard Wallach. For the guitar. Classical Guitar Folio. National Guitar Workshop. Spanish. Difficulty: medium. Guitar tablature songbook. Guitar tablature, standard guitar notation, guitar tab glossary, introductory text, and. 47 pages. Published by Alfred Music Publishing (AP.18495)
Great Classical Sheet Music #4
20 Studies for Guitar (Andres Segovia Edition). By Fernando Sor (1778-1839). Edited by Andres Segovia. For the guitar. Transcribed. Etudes, Studies and Classical Period. Etude book. Guitar notation, introductory text and fingerings. 32 pages. Edward B. Marks Music #M394. Published by Edward B. Marks Music (HL.6363)
Great Guitar Sheet Music #5
Classical Guitar Music - Volume II (Version 2.0) By Various. Guitar. CD Sheet Music (Version 2.0). CD-ROM. CD Sheet Music #30400044. Published by CD Sheet Music (HL.220553)
Great Guitar Sheet Music #6
Fifty Easy Classical Guitar Solos Edited by Jerry Willard. For the guitar. Music Sales America. Renaissance, Baroque and Classical Period. Difficulty: easy to easy-medium. Easy guitar tablature book and examples CD. Standard notation, guitar tablature, fingerings and introductory text. 78 pages. Music Sales #AM949058. Published by Music Sales (HL.14037208)
Great Guitar Sheet Music #7
The Solo Lute Works Of Johann Sebastian Bach By Frank Koonce. For the guitar. Intermediate Guitar Solo Level piece for the Guitar Events with the National Federation of Music Clubs (N.F.M.C.) Festivals Bulletin 2008-2009-2010. Classical. Intermediate. Music book. Published by Neil A. Kjos Music Company (KJ. WG100)
Great Guitar Sheet Music #8
The Complete Carcassi Guitar Method Edited by Mel Bay and Joseph Castle. For Guitar (Classical). Methods. Edition classical. Classic. Multiple Levels. Book. Text language: Spanish. 112 pages. Published by Mel Bay Publications, Inc (MB.93611ENSP)
Great Classical Guitar Sheet Music #9
Metodo Completo per Chitarra By Ferdinando Carulli (1770-1841) and F Carulli. Arranged by Benvenuto Terzi. For classical guitar. Guitar Method. Classical Period and Studies. Guitar studies book. Standard guitar notation, fingerings and instructional text. 93 pages. Ricordi #RER2474. Published by Ricordi (HL.50013250)
Great Classical Guitar Sheet Music #10
Napoleon Coste: Collected Guitar Works Volume 7 By Napoleon Coste (1806-1883). Edited by Simon Wynberg. For Guitar (Classical). Duets. Chanterelle. Classic. Intermediate-Advanced. Book. 52 pages. Published by Chanterelle (MB.97366)
For more on classical guitar go here...