Guitar Pictures and Posters
These guitar pictures and posters are classy additions to your home, office or music studio and, like the excellent guitar magazine page makes it easy and convenient to surround yourself with quality classical guitar products... I've teamed up with Allposters.com to bring you the best available. Just browse through the guitar pictures below and when you've made your choice just click on the selected thumbnail(s) for hassle-free shopping - shipped right to your door!
---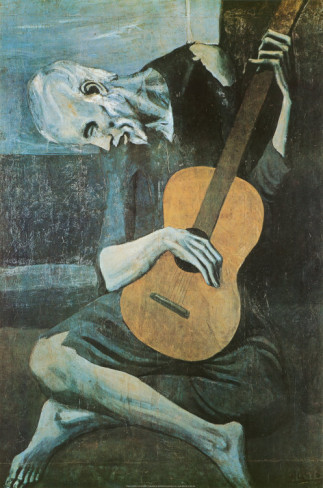 "The Old Guitarist"  was painted by Pablo Picasso. Picasso painted this one in his so-called "Blue Period" approximately between 1901 to 1904. It was said that Picasso was in a severe state of depression when these paintings were made, hence the almost monochromatic blues and greens used in his paintings in this period.
---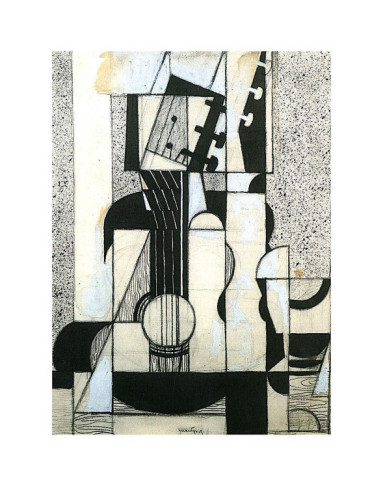 "Still Life with Guitar"  was painted by Juan Gris. He was a contemporary of Picasso and often produced works in the "Cubist" style. Indeed, he even painted a cubist portrait of Picasso himself.
---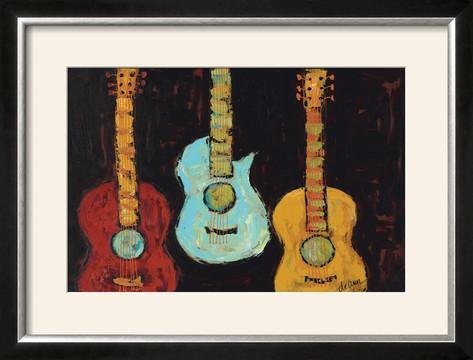 This lovely work, "Pick Me 1", by Deann Hebert is typical of the artist's style. She resides in Franklin, Tennessee and often describes her work as a "rustic poly-textural  style with a vintage vibe". She uses a lot of earthy, warm colors and often paints with a palette knife. She also uses a lot of mix media such as cheese cloth and burlap or Hessian cloth.
---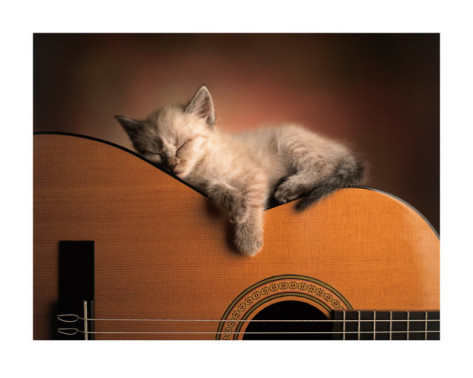 "Sleeping Soundly" is a wonderful example of Xavier Chantrenne's photographic work. Originally a native of Brussels in Belgium, Xavier has lived on the island of Majorca for at least the last 10 years. He usually produces work around the theme of animals, still life and landscapes.
---
"Three Folk Musicians" is a Jazz era influenced piece by the American artist Romare Bearden. Bearden's work often focussed on themes about the American South, and African-American inequality.
---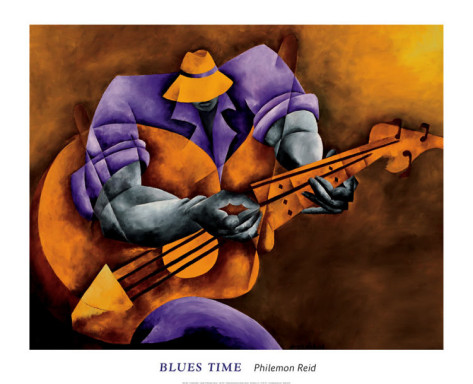 "Blues Time" by Philemon Reid is a vibrant, cubist influenced art work of great appeal of a guitar. Reid is of African-American heritage. He was influenced by Picasso from a very early age. Indeed, he was so inspired that he is virtually self-taught, having to work in a full time occupation whilst educating himself about art. He is also deeply influenced by music, in particular, jazz and blues music.
---
"Red Angel with Lute" is a more "traditional" picture that harks back to the day of Michelangelo. Indeed, it is said to...
"...combine the influences from Michelangelo and from northern Gothic engravings in a novel style, which departed from the tenets of High Renaissance art and was characterized by its highly charged emotionalism and departure from classicism."
(Ref: http://www.britannica.com/EBchecked/topic/510250/Rosso-Fiorentino)
A lovely work to adorn your wall!
---
More Guitar Pictures...
For more guitar pictures and posters click here...