Dionisio Aguado
Classical Guitar Fire Like A Gypsy
"Dionisio Aguado - His surname comes from the Spanish word for "soaked"..."
They probably said about him... "It's the quiet one's you have to watch out for!" For although it was said he was shy and modest by nature, he certainly played with the fire of a Flamenco gypsy, more akin to Andalusia than his hometown of Madrid.
Born in 1784 into a religious family, Aguado showed an early aptitude for music and guitar. True to his modest nature, it took him forty years of playing the instrument to become "famous". This was when he went to live in Paris in 1824. Aguado had inherited his father's estate some years earlier and had spent the majority of his time there mastering the guitar and music. This stood him in good stead for the rest of his life as he was both a master player and a very talented composer. This is despite the fact that he is mainly remembered today for his "Method" book.
Dionisio Aguado - Did You Know?
Aguado shared a house in Paris with none other than Fernando Sor. Sor, in fact, wrote a duet for himself and Aguado whilst they were living in the house together which they performed successfully at the time.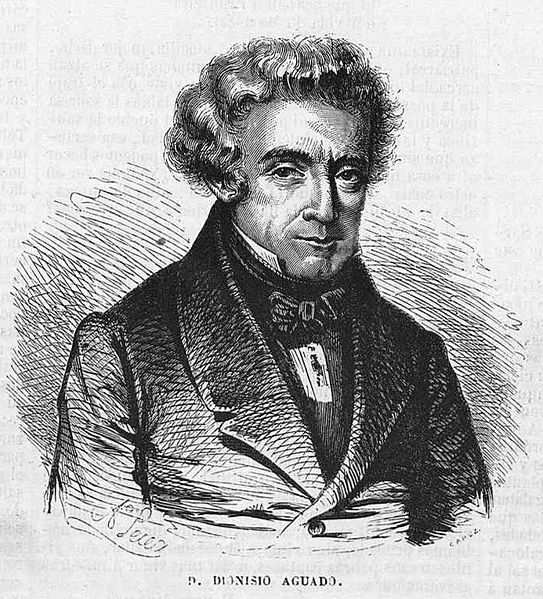 ---
Aguado's studies were often considered quite difficult and beyond the average guitarist. His method book was a means of logically and systematically achieving the desired technique to master them. They contained many musical yet didactic works from beginner thru advanced.
When he played, it is said Aguado played with great speed more suited to the "earthy" sounds of flamenco. Aguado also was a proponent of using the nails on the right hand for greater clarity of tone and dynamics. Using the skin rather than the nails one could imagine the warmth of tone he produced.
Aguado is less remembered for inventing the curious "tripodison", a strange three-legged contraption that was supposed to support the guitar whilst playing. Aguado even claimed it increased the guitar's volume output. This was perhaps a dubious claim, but in the end it was academic as it fell quickly from favour.
Check out this great little video on YouTube of a wonderful little Allegretto by Aguado...
Overall, with an impressive output of music that is both charming and technically useful, Dionisio Aguado has added nicely to the guitarist's repertoire. A wonderful player, a highly talented composer and a man who reached the rarefied air of a true guitar great.
Don't forget to get your Dionisio Aguado sheet music here...
Join the Great Guitar Tips Ezine to get regular PDF's in notation and Tab...
Here are a few related pages in which you may be interested...
Watch Julian Bream play some Aguado here...