Leo Brouwer
Classical Guitar Master Musician
 "Leo Brouwer - Received his first formal guitar instruction from the noted Cuban guitar master Isaac Nicola..."
He is one of the most seminal minds in the world of classical guitar today. This is due not only to his God-given talent but to his wide-ranging experiences. To view his musical "rap-sheet" is indeed daunting for us "mere musical mortals". Brouwer was born in Havana, Cuba on the 1st of March 1939. His musical prowess was impressive as he started learning the classical guitar slightly late at the age of 13. By the time he was 17 he was able to give his first public performance.
He was in good hands as his first real teacher was Isaac Nicola, who had been a pupil of the great Emilo Pujol. Later on he attended the prestigious Julliard music school and the famous Hartt College, billed as Connecticut's Premier Performing Arts College.
Brouwer's career has spanned five decades and his achievements in both classical guitar and the general musical field are imposing indeed. He has performed all over the world and composed music for chamber groups, ballet and film. He has also arranged the music of other composers (including The Beatles no less!) and been involved in judging in classical guitar competitions the world over. Leo has even given workshops and master-classes, taught in conservatories and is a professor of composition.
When does the guy sleep? Oh yes, I forgot. He's also worked with some of the best orchestras in the world as a conductor. Here's what Steven Thachuk said writing about his style of composition in the liner notes of his C.D. Brouwer: Guitar Music, Vol. 2
"As a composer, however, he is primarily self-taught, and his development as a creator of music can be traced logically through three stages of compositional style. His first period began in 1954 with a series of pieces that explored the possibilities of the guitar. He makes free use of musical materials from his Cuban roots. Pieces with traditional forms such as fugue are present alongside works which incorporate the vital rhythmic energy of his homeland."
In 1961, he attended the Warsaw Autumn festival in Poland and came into contact with the music of avant-garde composers such as Penderecki, Baird and Bussotti. By 1968, he had assimilated these ideas into an entirely unique and personal style.
Brouwer 'coolly' smoking a cigar...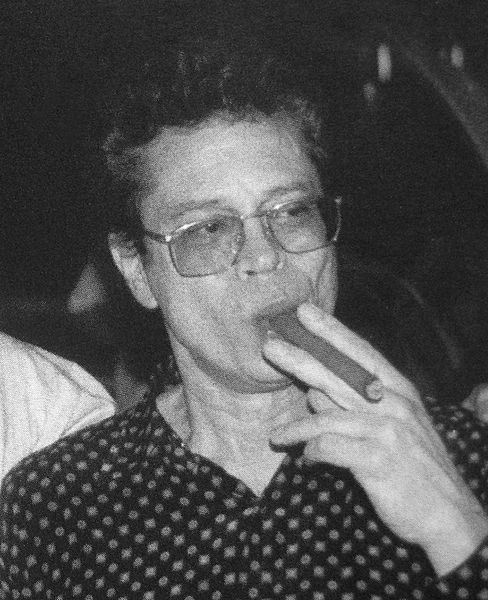 Check out this great little video on YouTube.com of the composer...
The composer has referred to his current compositional style as "national Hyper-Romanticism". His piece for guitar orchestra, Acerca del sol, el aire y la sonorisa (1978), was the first in this mature phase. It displays all the characteristics of his new style: a return to Afro-Cuban roots mixed with elements of tonality, traditional form, programmatic gestures, and minimalism..."
Approaching his seventh decade Leo Brouwer shows no signs of slowing his phenomenal influence on the world of classical guitar and the world of music in general.
Here are a few related pages about composers of which you may be interested...
You can find out more about Leo by going here...
Indeed, here is a list of what you can find out about him...
1 Biography
2 Modern music
3 Functionary and Communist Party member
4 Selected works
4.1 Works for Guitar
4.1.1 Solo Guitar
4.1.1.1 Guitar Duo
4.1.1.2 Guitar Quartet
4.1.1.3 Guitar & Orchestra
4.1.2 Guitar and stringquartet
4.1.3 Guitar Concertos / Concierto para Guitarra
4.2 Other works
4.2.1 Solo Instruments
4.2.2 Chamber music
4.2.2.1 String Quartets
4.2.2.2 Other chamber music
4.2.3 Orchestra
4.2.3.1 Orchestra with other solo instruments
4.2.4 Choir
4.3 Scores
5 References
6 External links
6.1 Publishers
6.2 Recordings
6.3 Films
6.4 Videos
6.5 Articles
6.6 Interviews
6.7 Bibliography
6.8 Biography