Beginner Guitar 10
Menuet in G by Bach
For Classical Guitar Sheet Music click on the link below to subscribe to my YouTube Channel & get a new piece of music EVERY week...

Subscribe to my YouTube Channel...

Beginner Guitar 10, Menuet in G Major by Bach is another great piece to practice your i.m. fingers and thumb for bass. Like Beginner Lesson #9 it is rather longer than the others and will help you to develop your sustained playing.
---
Take Action Now!
Get the 'Classical Guitar PDF Bundle'  of great pieces (including Greensleeves) in both music notation & TAB just for joining the LearnClassicalGuitar Resources Newsletter...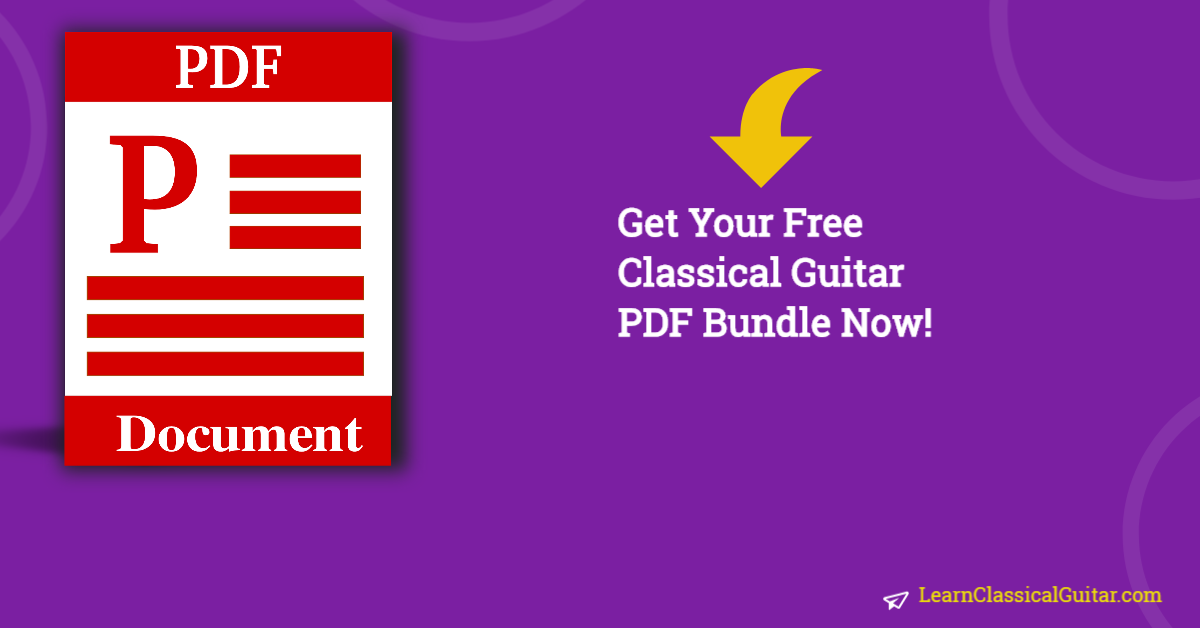 P.S. - In a moment you'll see this message AND this 'Confirmation' button in your email so DON'T forget to click it or I can't send you all your goodies!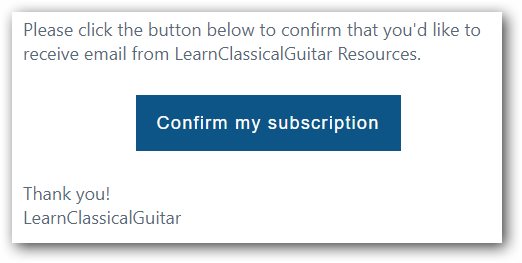 ---
Other technique practice includes: playing of repeats; use of accidentals (see below); crossing strings; dotted notes lengths; triplets; harmonics; staccato; legato, and so on.
An accidental is a sharp or flat note played within a bar. However, it is not denoted in the key signature. The effect of this is to add interest basically to the melodic or harmonic line.
A triplet is 3 notes played in the time of two. Conversely, a duplet is two notes played in the time of three, although you don't see that in this piece.
Harmonics and staccato can be problematic if you're a beginner at the technique. If you want to understand these topics a little more fully go to the harmonics page and the staccato page...
Actually, while we're on the topic of the differing theory aspects of music, it might be timely if you start reading and completing some theory exercises. There are quite a few topics on the page, namely: 
When you're finished there you can check your work with the...
Please don't skimp on your learning because if you build the foundation of your knowledge, your overall musicality and depth of musicianship shall also increase.
Additionally, Beginner Guitar 10, Menuet in G Major by Bach, is a very well known and much loved tune. The melody really "gets a hold of you" and swells round in your head for hours afterward. Don't forget, in waltz time the beats of 1, 2, 3 are played: strong, weak, weak; strong, weak, weak.
Enjoy!
Go here to view the Beginner Guitar 10 - Menuet in G by Bach for classical guitar on YouTube...
End of Beginner Guitar 10
***Right click document to save or print***
That's it for the Beginner Guitar Series. You might want to move up a level to the Free Guitar Lesson Page...
If you've missed any of the previous lessons you can go to them here...
You might now be ready to take your training somewhat further with the Sor Complete Studies...