Hi,

Here's your latest issue of...



~~~~~~~~~~~~~~~~~~~~~~~~~~~~~~~~~~~~~~~~~~~~~~~~~~~~~~~~~~~~

Great Guitar Tips - The World's Most Useable Guitar E-Zine ~~~~~~~~~~~~~~~~~~~~~~~~~~~~~~~~~~~~~~~~~~~~~~~~~~~~~~~~~~~~

A free, monthly E-Zine dedicated to providing you with useful information and tips for your guitar playing ~~~~~~~~~~~~~~~~~~~~~~~~~~~~~~~~~~~~~~~~~~~~~~~~~~~~~~~~~~~~

February 2011 Issue #079 ~~~~~~~~~~~~~~~~~~~~~~~~~~~~~~~~~~~~~~~~~~~~~~~~~~~~~~~~~~~~

If you like this E-Zine, please do a friend a big favor and pass it on. If a friend DID forward this to you and if you like what you read, please subscribe by visiting...

https://www.learnclassicalguitar.com/ezine.html

~~~~~~~~~~~~~~~~~~~~~~~~~~~~~~~~~~~~~~~~~~~~~~~~~~~~~~~~~~~~

Table Of Contents

1. News

2. Recommended Resource: Live Internet Radio for Classical Guitar

3. New Piece & Video: Menuet by Robert de Visee

4. Study Point: Relax Your Hand & Fingers

5. Inspirational & Helpful Interviews


1. News
Hi to all new and old subscribers! Welcome to the February 2011 issue.

There's a lot to get through today including a new piece by Robert de Visee, what to do with your right hand when playing, plus some great resources for you. So let's go!


2. Recommended Resource – Live Internet Radio for Classical Guitar
As I sit here typing out this newsletter I'm so relaxed. It's probably because I'm listening to live fr/ee internet radio for classical guitar!

There are some advertisements on the fr/ee section though if you join up for a small fee the advertising is removed. The ads don't go that long so it's not as if it's unbearable but it sure is convenient to sit & listen while I work. You can check out the Live365 internet radio site here...


3. New Piece & Video – Menuet by Robert de Vsee
Born in 1650 and dying in 1732 Robert de Visee began his career as a court musician to Louis X1V and even became the guitar teacher of the young Louis XV.

In fact, he was a deft hand at many instruments including the theorbo, the viola de gamba and the lute. He wrote many works for these instruments that have come back into vogue over the last fifty or so years.

In his Menuet in E Major, although quite short, we have an excellent example of de Visee's writing skill. It has all the grace and charm one would expect of him. Read more here...

Please do me a favor and comment on the video at the YouTube site. You can do that right here...


---


Don't forget, the Classical Guitar Study Course is now available! With so many resources all in one place you'll never have to go looking online to improve your playing ever again. You can check it out here...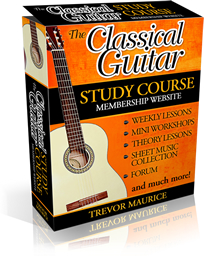 ---
4. Study Point – Relax Your Hand & Fingers
In all the videos I've posted on my site and You Tube you'll notice that my right hand is quite relaxed. In fact, the lack of tension is easily spotted because my right hand fingers usually brush up against one another when the hand is relaxed.

Even when the fingers are moving in unison when plucking a chord the fingers stay pretty much together. It's the same when running through a scale passage within a piece. your fingers should lightly brush up against one another in a relaxed fashion.

The more tense your fingers and hand the more suppressed is your tone and general overall dynamics. It should be as free as someone performing a Tai Chi move namely, flowing and smooth movements. The way to achieve this is to practice slowly of course but also to "catch" yourself whenever you start to tense up. After a while the relaxed technique becomes second nature and you just perform in that way naturally. Try it and see for yourself.


5. Inspirational & Helpful Interviews


I've included a new section this month where i'll be bringing you great and inspirational interviews to help with your motivation, momentum and pure and deeper enjoyment of the classical guitar.

I've actually got three for you today so it might take several days to digest the info. The first one is an interview with William Kanengiser On The "Upside to Practicing Less". Go figure? :))

You can see that interview on You Tube here...

The next one is from to of my Aussie compatriots and absolute legends of classical guitar, namely: John Williams and Craig Ogden. It's called "The Classical Guitar - Inspiration and Dedication". It's a long interview so put aside some time to just sit and take it all in. You can get the interview here...

And last, but not least there's an interview with Ricardo Iznaola of Kitharologus fame. You can see that interview here...

Well, that's it for the February edition. I hope you enjoyed everything. I'll see you soon with another brand new edition including music, videos and fun!!! :))