David Russell
David Russell is world renowned for his superb musicianship and inspired artistry...
When the Vancouver Sun reviewer said of Russell... "His command of the guitar is imposing...superb guitar technique at the service of a musical mind..." he must have known that he was now accepted in the upper echelons of the guitar world. Born in Scotland, but living in Menorca for most of his young life, Russell began playing the guitar when quite small. By the time,  he was sixteen he moved to London to further his guitar study with the renowned Hector Quine. 
Russell's talent must have been immense because whilst at the Royal College of Music in London he twice won the prestigious Julian Bream medal. He even obtained the Vaughn Williams Foundation Scholarship. Also whilst studying in Spain with Jose Thomas, he won the Ramirez competition. He even won a Tarrega and a Segovia competition some years later such was his imposing ability. It must have been gratifying for Russell when in 1976, he was named the "Young Musician of London" by the London Arts Association.
Russell is so highly regarded that many composers have written works for him including Morel and Santorsola. Although living for the most part in Spain, Russell has continued to travel, around the world, to perform including Canada and the United States.
Indeed, when he played in New York the reviewer wrote of his performance... "Mr Russell made his mastery evident without ever deviating from an approach that placed musical values above mere display. It was very apparent to the audience throughout the recital that Mr Russell possesses a talent of extraordinary dimension."
Check out this great little video on YouTube of Mr Russell playing playing "Sons de Carrilhoes" by Joao Pernambuco...
David Russell Sidebar - Did You Know?
Russell's father was also a very accomplished guitarist and was actually his son's first teacher on the instrument.
---
Russell has added significantly to the world of classical guitar with his mastery and obvious love for the instrument, which shines through whenever he graces us with a performance, be it live or recorded. A stellar talent!
For more David Russell click here...
Here is a related resource in which you may be interested...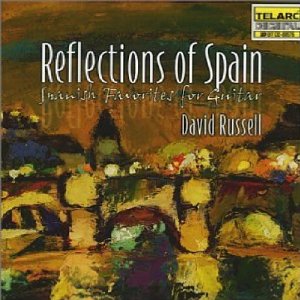 Here's a review of this work...
"Russell's superb performance and the incredible Dammann guitar bring out the very best in each, and that combination is breathtaking. Russell's two tracks composed by Tarrega are, in my opinion, the best recordings of those compositions, which shouldn't be a surprise as Russell won the Francisco Tarrega Competition in Spain.
The beauty of the tremelo on track three is hard to describe except that I stop whatever I'm doing each time I hear it, and I've played this CD often. A lot.

The recording quality is impressive but drifts into subtle significance after listening to an hour plus of rich full-bodied Russell/Dammann genius. (How does Russell do so much without any string sqeeks?)"
If you want to keep up with Mr Russell and his world travels with the guitar just check out his website here...